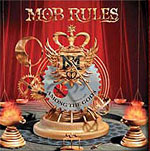 Mob Rules-Among the Gods

    © 2004 Steamhammer Records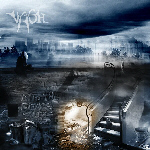 Vagh-Into the Future Zone

      © 2004 Slick City Slackers

Reviewed by Dave Palmer

Mob Rules return with album number four and number two for the SPV label. This band is definitely one of my more recent favorites thanks to their great 'Temple of Two Suns' album from a few years ago. I really anticipate each title as they come out and the band hasn't let me down so far. 'Among the Gods' is probably my favorite from the SPV titles. I'm still a bit partial to the Limb Music released 'Temple of Two Suns'. Their lastest starts out pretty typical of a Mob Rules album. 'Black Rain' is definitely a good opener and sets the tone beautifully. Gettin' down to business is 'Hydrophobia' which is one of the more upbeat numbers tempo-wise. I think the track 'Invitation Time' is amazing. Very cool keyboard and guitar work gelling for one of the albums best tracks. The title track has a great feel to it. The veteran side of this band is really showing on some of the material this go around. 'New World Symphony' is the bands statement song from this album. The track utilizes orchestration and really has a lot of depth. Definitely not the heavy track although you could make the arguement for the vibe being heavy. 'Ship of Fools' returns to a bit heavier sound. 'Seven Seas' has a good sound to it with tempo fluctuating a bit. Very consistent with a few of the other majestic rockers on the album. 'Meet You In Heaven' is one of the most accessible and upbeat numbers. Memorable chorus on this one. I like the way this album closes with the track 'Arabia'. You get a feel with some of the vocals in the background as well as the musics sound of an 'Arabic' feel. It may be a bit light in this feel, but really enhances the song overall and closes the album in fine fashion. I feel the band is maturing very nicely. The only problem they might have is just the fact that there are so many good acts and will they be noticed. I think they have a decent fanbase, but would love to see these guys achieve a higher status because I think they are hitting on all cylinders. Definitely one of the years good releases worth mentioning.

Overall

Nicely done once again. It may not be my favorite of theirs but is definitely my second favorite. I believe the band is hitting on all cylinders and with music written this well, they could break open in the market even bigger. Only time will tell though due to a rather finicky market these days in the metal market. It definitely gets my recommendation though!

Questions or Comments? Email Dave by clicking
here
.
Reviewed by Dave Palmer

Robin Vagh and crew are back with the bands latest effort 'Into the Future Zone'. The release finds the band in a natural progression that a band see's (or you hope they do) and the music is quite good. What you are gonna get upon spinning this disc is a nice consistency of mid tempo music. The band write with a melodic tone, but don't shy away from a grind once in a while. The guitar work can be downright chunky at times. Looking at the music, it's pretty impressive. There are 3 differents vocalists on the album. 2 of them are guest vocalists, Noomi Strågefors sings on the tracks 'Moment of a Touch' and 'Don't Turn Away. 'Moment of a Touch' is a spunky mid tempo number that comes off memorable while 'Don't Turn Away' I felt was amazing and her vocal work was top notch. Very likeable track right from the get go. This particular track has hit potential in my opinion. The second vocalist is John Marshall Gibbs and he takes on the tracks 'I Wanna Feel Love' and 'Show Me Heaven Tonight'. John really does a masterful job on 'I Wanna Feel Love'. A very soulful sounding track that also has hit potential. Very nice delivery. The other track is a nice piece of AOR that has a consistent feel with the larger portion of the tracks on the album. That brings us to main frontman Jonas Blum. You have to give Jonas credit first of all for being comfortable with 4 tracks being taken by guest vocalists. He does a great job as well and brings in that familiar feel that Vagh fans are used to already.  The remaining 8 tracks are well done. 'To Hell and Back Again' and 'Can't Reach You' lean heavy and are fairly consistent with each other. I really like the keyboard work on 'Love Touch' as well as the tempo. Nice groove flowing through on this one. Jonas does a great job on 'Calling On You' which is the most likely potential hit of his tracks that he sings on. One of my favorite tracks is 'Rebecca'. You might think by the title that it would be a mellow song, but you would be wrong. Nice hard drive behind it. Like the guitar solo on this one as well from David Persson. The final two tracks are great closers. 'This Feeling Inside' is just good AOR type stuff with a great sounding chunky rhythm. 'Future Zone' is a solid rock based track with good development from start til the end. Probably the more progressive track on the disc. I remember liking Robin's work from the first outing, but really think he has hit his homerun on this album. Nice listen beginning to end!

Overall

I really have to compliment Vagh on this release. There really doesn't seem to be a selfish attitude due to the amount of guest work from outside of the band. The results are definitely showing as a result of the chemistry of those involved. There are a few tracks on the album that definitely could open things up for Vagh if promoted well. Definitely recommended!

Questions or Comments? Email Dave by clicking
here
.