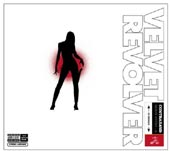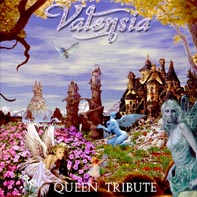 Velvet Revolver-Contraband

           © 2002 RCA Records

Valensia-Queen Tribute

          © 2004 Lion Music

Reviewed by Mike King

Finally,an American made band that is topping the charts and selling out shows everywhere they go and creating quite a stank too.  And guess what? Every song on this CD is good.  They are veteran rockers with a fresh sound and their main goal is to bring the spirit of rock back into the shallow music industry that exists today.  It's working too.  Their debut album "Contraband" has come out of the chute like a raging bull trying to beat the hell out of its rider.  The band is Slash, Duff McKagan and Matt Sorum from Guns and Roses, Scott Weiland from Stone Temple Pilots,  and Dave Kushner from Suicidal Tendencies.  With a line up like that how can they miss. The music is hard to put a finger on. There are certain little hooks and riffs that are familiar G and R trademarks and Scott's vocals are certainly recognizable but it's a whole new sound altogether.  Perhaps it's the combination of musicians that makes their sound unique.  The first song on the CD, 'Sucker Train Blues' is a straight up rock and roll tune that slaps you in the face with driving guitar work and no nonsense vocals that are subliminally saying 'wake up stupid, we've got a lot more on the way'.  There is one ballad, 'Loving The Alien' that shows the bands more lighter, sensitive side.  'Slither' sounds just like the name with Duff sludging through some grungy bass work to set the mood for this hit song.The hook line is catchy and Slash lays the wha-wha on pretty thick.The whole album leans quite a bit on the raw, grungy side with searing guitar solos and ballsy lyrics.  Matt Sorum (one of rocks all time best drummers) keeps precision time with lots of cymbal crashes and snare attacks.  I met

Matt when he was playing with the Cult.  He's a cool guy. This whole album, the band, the attitudes and everything else that goes with Velvet Revolver is exactly what the rock scene has needed for a long time.  A band with guts, a band of rock stars that have dared to do it their way, who have not bowed down to no one.  VR is bound to piss a lot of people off and that's what we've been lacking in our rock music today.

Overall

'Contraband' is an album that has needed to come out for a long time. The American rock scene has gotten stagnant and totally run into the ground.  None of the bands have been allowed to be themselves until now and there is no stopping Velvet Revolver.  This album is loud, obnoxious, crude, raw, and grungy. Hell, everything a good rock album should be.  This one is a must for everyone's collection.

Questions or Comments? Email Mike by clicking
here
.
Reviewed by Dave Palmer

Many are figuring out in a hurry about Dutch talent Valensia. Recently he released his masterpiece Metal Majesty album 'This is not a drill' which completely caught me off guard. What I found equally amazing is his recent Queen Tribute titled the same. Valensia has a real nack for singing like Freddie Mercury. He pulls off the rest of it as well. This album was released in Japan sometime back and now Lion Music has picked it up and released it in other areas of the world. If you want to get the point in a hurry of the talent involved in this album and how close Valensia can get to Queen without being Queen, Take a listen to 'Bohemian Rhapsody'. I guarantee your jaw will hit the floor. There are very minor differences in the vocals between Valensia and Queen, but quite frankly it's so close it's damn scary. The sound of the song is so close too that one might think he was backed by Brian May and the gang. Not so. Before you start thinking that this is just an exercise in cloning Queen, take a listen to the mega-hit 'We Will Rock You'. True to the original in some ways, but Valensia has added a very different identity to it. It sounds pretty cool too. Kind of a more modern approach you could say. In a way I was thinking of the version Warrant did a few years back of this song. Not that they sound the same, but each band has put their own spin on it. Both were equally as cool. Many other great tuneage is on the tribute as well including 'Sheer Heart Attack', the classic 'Killer Queen', one of my personal favs by both Queen and Valensia in 'Love Of My Life', and strangely enough 'All the Young Dudes'. I was kind of wondering why that track would appear on a Queen tribute, but found it was played at the Freddie Mercury Tribute Concert by Queen so maybe that's the connection. Could have deeper meaning and I wouldn't be surprised. One thing I thought really added to this release was the variety in the track listing. There are definitely some more well known tracks, but there are also some tracks that more recent fans of Queen may not have been as familiar with such as the classic 'Liar' or 'I'm In Love With My Car'. Valensia definitely did a good job in selection as well as delivery of the music!

Overall

Valensia is really poised to become something special. Japan has already figured this out. It's just taking the rest of the world a little more time. The music on this tribute is very well thought out and presented. I think as a Queen fan, you would be hard pressed to not get something from this and also respect Valensia's talent. He pays respect to Queen but also earns some at the same time. Very nicely done!

Questions or Comments? Email Dave by clicking
here
.