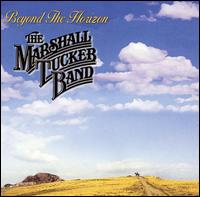 Survivor-Ultimate Survivor

           © 2004 BMG Music

The Marshall Tucker Band-Beyond the Horizon

                              © 2004 Sony Music

Reviewed by Mike King

When Dave handed me my latest assignments I eagerly pecked through the stack of CD's to see the latest metal offerings. When I got to the bottom I found the new release of The Marshall Tucker Band "Beyond The Horizon".  Now I've always been an MTB fan but I asked Dave why he felt this CD belonged on the Heavy Metal Resource.  He simply said,"give it a listen and you'll understand why." So I did and now I know why.  It's by far one of the best albums by the band in recent years.  Comparitively it follows the same format as Black Label Society's "Hangover Music VI".  Singer Doug Gray sounds a lot like Zakk Wilde or vice versa.  "Midnight Promises" reeks with BLC.  You would swear Zakk and friends wrote this.  Songs like "Beyond The Horizon", or the albums opener, "Ride Of Your Life", or my favorite, "King Of The Delta Blues" really keep you hungry for that grungy blues

rock that BLC or Lynyrd Skynyrd run through the bowels of true rock fans.  Now don't get me wrong, much of the sounds are pure Marshall Tucker music with plenty of the diversity that has made these fellers stick in the minds of all music lovers. The trademark flute lightly but distinctly peppering a few cuts. The grinding organ filling the air with essence.  Blues and jazz everywhere and yes even some country western on songs like "Angel(With a Honky Tonk Heart)" and "The Rain".  Now come on folks, we all know that well rounded, educated, stable people such as ourselves all need a little diversity to keep us sane and help us cope with this screwed up world.  Keep in mind that even the C and W songs contain a Zakk Wylde style guitar solo.  This whole album is a strong one from start to finish and really shows off the bands gifted talents and experience.This comes from living it, breathing it and loving every moment of it.  God bless the die-hard rockers that continue to enlighten us. The world needs more bands that play from their hearts and souls and a lot less of the corporate made prima donnas that are killing music.

Overall

If you are a music lover, whether it be classic rock, blues, innovative, country or what have you, The Marshall Tucker Band gives it all to you on their latest release.  It's full of rich, exciting, uplifting music that satisfies all musical tastes.  This legendary band still has what it takes to write some fine expressions of heart and soul.  This album really reached deep inside of me and pulled me in a lot like Black Label Society's " Hangover Music VI".  It's the kind of music that you can

rock to, but it don't get in the way.  Know what I mean? Email me if you don't.

Questions or Comments? Email Mike by clicking
here
.
Reviewed by Dave Palmer

Well, I know it might sound cliche', but yes, I did get started with Survivor on their mega-hit 'Eye of the Tiger'. That song really packed a punch in it's day and still holds the test of time especially since if you ask most people if they have heard Survivor, they will mention this particular song. If you don't know it yet, Survivor wrote many, many more great songs with quite a few of them being hits as well. This is one of those records you can spin up for somebody and they will definitely be very surprised at how many of the songs they were familiar with and didn't even realize it. Obviously the opener 'Eye of the Tiger' will be instantly recognizable as will the 'Rocky' movie and the fights that it was used with. As you progress through the album you start to notice just how melodic the band was. Take for instance the hit 'I Can't Hold Back'. It reached #13 on the charts with the album it was from, 'Vital Signs', reaching #1 for 3 weeks.  This was a common occurance too. What makes this album nice is that each track is laid out with chart position, album position and title of album. I found that part particularly informative. I've seen that done a few other times in compilations and feel it should set a precedence for how to do these things right. The music on the album is also remastered and sounds great. Some of these songs have been out for quite a while now and it's nice to listen to them with today's sound standards. If that wasn't enough, there are also some great, extensive liner notes that were helped out with recent interviews of the band. There are also some cool photos from the band's own collection.  I really think that when you go out and try to find one album by Survivor that you can pack around, get the best track selection, and with the great information it contains, you are hard pressed to find better than this. There are 18 tracks total with some of my own personal favorites including 'The Search Is Over', 'Burning Heart', 'Across the Miles', 'High On You', 'Didn't Know it was Love', and 'Somewhere in America'. There is also a full length version of the track 'Summer Nights' and a previously unreleased original version of 'Rockin' into the Night' which I thought was pretty cool.

Overall

Like I mentioned in the body of the review, this is one helluva cool package that can be used as an all in one to pack around. Lot's of good info as well as a very solid track selection. The remastering of the music is the icing on the cake. If you want to gauge how big of a Survivor fan you are, drop this disc in the player, you might be surprised at the results. Recommended for sure!

Questions or Comments? Email Dave by clicking
here
.