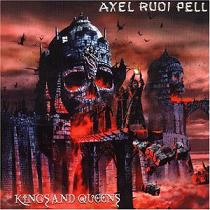 Axel Rudi Pell-Kings & Queens

          © 2004 SPV/Steamhammer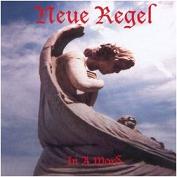 Neue Regel-In A Word

  © 2004 Nu Paradigm Music

Reviewed by Mike King

Neue Regel is an innovative\experimental metal band with a clear eye on the future.  Their style of music may change the way we listen to music in this new millenium. They have taken the direction that I feel was the direction Queensryche was heading before they decided that they needed to sell records (about the time 'Empire' came out) if they wanted to eat.  Don't get me wrong, the 'Ryche' is still a great band and one of my all time favorites.  My guess is that these guys have a lot

of Queensryche, Fates Warning and Dream Theater in their collections at home.  This is the category that Neue Regel falls into however their style is quite intense and very exploritory.  It takes musicians that are dedicated and disciplined to their crafts and to each other to pull off music like this.  Remember Frank Zappa and the Mothers of Invention? Those guys had to read each other like a book to pull that stuff off live. NR isn't quite that bizarre but they really are geniuses none the less.

Neue Regel is from Australia and consists of Dave Bellion(vocals,guitar), Dakota Rhoad(guitar,keyboards) and Mark Stone(drums,percussion).  The first time I listen to this CD was like hearing for the first time at birth,  everything was just kinda out there but after hearing it a couple more times everything came into focus and now I can appreciate what they've created here.  There is a lot of stereo action going on so you really need to hear this with a decent

system or better yet a good pair of headphones. This is the type of music that you just want to sit and listen to without interruptions so you can enjoy the flow of heavy guitar riffs mixed with classical guitars blended with symphonic modes. There is a lot of cool sound effects that add bone chilling drama to each arrangement being sung with in haunting Geoff Tate style vocals. This CD is definitely not your average

metal album.  It may take some time and effort to get into this music, but with a little willingness to try something different,  I think you'll really like this album and you may also agree with me that Neue Regel may have come up with the new sound of metal for the new age.

Overall

This CD is highly progressive and experimental and sounds alot like early Queensryche, however it's much more aggressive and innovative. Their music has really grown on me. I appreciate it not only as a fellow musician but as a music lover.  Neue Regel, a band from the land down under that has come across a formula that may shake up the metal world as we know it and change it forever.

Questions or Comments? Email Mike by clicking
here
.
Reviewed by Dave Palmer

Axel Rudi Pell just keeps pumping out the material. Thats okay by me too. I have become a pretty big fan of Pell and really look forward to each release. His latest, 'Kings and Queens' in my opinion is getting back to the 'Oceans of Time' sound. While I liked his previous 'Shadow Zone' I didn't find it up to the same par as 'Oceans of Time' and 'The Masquerade Ball'. Well, 'Kings and Queens' brings him back to this feel. This album opens up very typical of Pell with an intro that is instrumental and builds into the first main track. The intro this time is titled 'The Gate' and erupts into the frantic 'Flyin' High'. If you have listened to axel in the past he opens an album more this way then he doesn't. Gioeli's vocal work is on par as usual and gets the album going with some great chorus work. The album moves along with the rocking number 'Cold Heaven' which is catchy and fits in mid-tempo as does the next track 'Strong as a Rock'. Although the latter has a bit more melody and finesse and leads into one of my favorite tracks 'Forever Angel'. When I purchase an Axel Rudi Pell, this is exactly what I hope to hear on the album. Dreamy and multi-dimensional and Gioeli's vocals really make this song one that you will keep hitting the back button for. Don't hit it too many times though 'cause you don't wanna miss the asskicker that comes next in 'Legions of Hell'. This is one of those chugging rockers that Pell puts usually at least one of on each album. Very solid track that is also a favorite. As the album progresses with tracks like 'Only the Strong' or the bluesy 'Sailing Away', you feel fulfilled as usual. To this point there haven't been any misses. 'Take the Crown' is vocally driven and has a touch of the blues again. The closer 'Sea of Evil' is a gem. Classic Axel Rudi Pell on this song. Flowing disciplined guitar work with the band's chemistry really topping it off. This band's lineup really has a chemistry. Consistency from album to album see's the band not writing new formulas. They just get the job done with amazing results.

Overall

If you are a fan of Pell than you might ask when he will tap out of this great track record. If you are a fan you already know the answer to that question. Definitely no tapping out. Axel Rudi Pell is an amazing talent and has assembled one helluva great surrounding band that equal his abilities. Super musicians I like to call them. Discipline is adhered to however letting the music take front stage. A very highly recommended title once again!

Questions or Comments? Email Dave by clicking
here
.