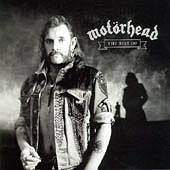 Mama's Boys-Collection

         ©2000  Connissiuer

I have a lot of hits from people looking for information on Mama's Boys. This album will be very pleasing  for everyone who needs their fix. Anyone familiar with this website will already know what a fan of the band I am. I was very pleased to get some of these tunes on the digital format finally!

Contained on this disc are 18 tracks from three albums. Divided equally are 6 tracks per album. The album was intended to give the fans a flavor of the albums by entering the few tracks per album concept. How are the track lineups??  They are pretty good. 'Crazy Daisey's House of Dreams', 'Hard and Loud', and 'Mama Weer all Crazee Now' are here to enjoy. The lineup is however void of the 'The Professor' series of tunes which would have been fun to have. I'm pretty happy nonetheless.

The music sounds great. It has some good punch to it and cranks!  I'm not totally sure how the mastering was converted to disc, but it sounds better that a few other titles I have heard recently from the same era.  The only drawback is that ths title is only available currently as an import title. I grabbed mine quick as you never know how long they will keep this one in print. Don't wait too long or you may be sorry.

This is a must have for all Mama's Boys fans.  It is also required listening for fans of the genre who may not have heard much from the Boys. Don't miss this one!

Motorhead-The Best of

      ©2000 Metal-Is Records

Lemmy's back and happier than ever.  Finally, a best of collection done to his liking. You know, I really like this new Metal-Is label from Sanctuary. They are doing a great job so far on what they are releasing. This collection is a good example of the quality of their work.

Why another Best of... from Motorhead you might ask??  Take a look at some of the previous and you may answer your own question. Die hard fans will know. A lot of the earlier Motorhead classics are missing.  Lemmy states this in the extensive liner notes in the album. Finally, a compilation that he is pleased with.

So the classics are there?? How about tunes like 'Ace of Spades', 'Overkill', 'Bomber', 'No Class', and 'Motorhead'?? The interesting twist on a few tracks is the tribute style of a tune here and there.  Hawkwind does one. Headgirl does one. Get the idea??  But don't worry. Motorhead does most of them.

What makes this album special to me is the remaster. It gives new life to some of the older tunes that were limited by the technology of the time.  The good thing here is that the tunes just sound better, not re-recorded. You still get the same old distortion that you would expect.  The set is split into 2 discs and comes with a cardboard slipcover. Definitely give the liner notes a read.  As I mentioned before, they are quite extensive and well done.

This is a pretty cool set to have. Don't just dismiss this one as another attempt to rip the fans off.  This album is well done and has a lot to offer all you Motorhead fans!