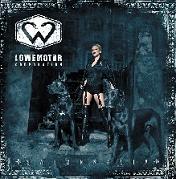 Lowe Motor Corporation-Saturnalia

              © 2004 Spinefarm Records

LBS-4 track demo

   © 2003 LBS Music

Reviewed by Dave Palmer

Showing even more diversity at the Spinefarm labels, we are offered the latest from Lowe Motor Corporation 'Saturnalia'. At times when i was listening to this disc it reminded me of the Genitorturers, but only in some of the tone. The music is heavy with some good catchy choruses and vocal work from Claudia. The album opens with a heavy but catchy vibe in the track 'The Flyin' G'. You know right away the way this album is gonna go. 'Tonight' continues the heavy vibe with a bit of difference in the verse. Light then heavy with good effect. 'The Gibson Girl' and 'Soul of a Pagan' are fairly straight forward with the latter being the bands latest video. You can see it by clicking
here
. The title track 'Saturnalia' in some ways sounds reminiscent to the sounds of the current scene in the States especially in the guitar parts. Hard driving. One of my favorite tracks without a doubt is 'Child of Lies'. This song has an amazing low end that really pushes forward a thick wall of sound. Kind of a sassy tune that would of made Wendy O. Williams proud I think. 'Love Me' is another decent track and I also believe it was a single from this album. One of the more memorable choruses on the album from a melody stand point. 'Scared' is a good track that once again is fairly straight forward in it's approach. 'The Lowest of the Low' is modern in it's sound and tends to be one of the more catchy tunes on the album. Definitely rocks out and closes the album out well. It seems like female fronted bands in heavier music have really faired much better in recent years. With this particular band, they are solid and write good music. The subject material is a little adult in nature which is fine and has common ground with some of the other female fronted bands that gained notoriety in the past. I like the bands sound and the bit of mix up they do from straight forward to a bit more modern with a groove.
Overall

I'm not sure who to recommend this to, but I do recommend it. It is catchy and memorable from the start. Vocally, Claudia is much cleaner than some of the females mentioned in the review. Definite consistent listen throughout the album. The music is quality, but if you don't dig it from the first few songs, you might not at all. If given a chance I think most will like it and find it's merits. Definitely one of Spinefarm's unique artists. Very good stuff!

Questions or Comments? Email Dave by clicking
here
.
Reviewed by Mike King

Here's a seriously heavy duty blues rock band that has set some big goals and reek with drive and ambition.  The Lost Bolt Society (I'm not sure what that means) or LBS if you will is a three piece band from

the Detroit area.  They fall into the fat Texas blues that ZZ Top conjured up at the crossroads.  A place where they put gravy on the meat and potatoes and LBS puts it on pretty thick. Their debut CD will come out later this summer(2004) but this demo gives you a pretty good idea of what they are all about.  It's pretty obvious that they are ZZ Top and Stevie Ray Vaughn fans by the heavy blues riffs on 'The Time Has Come' and 'You Turn Me On'.  'Like I Knew She Would' is more of an upbeat swing shuffle.  You'll find yourself singing along with the chorus line on this one, it's very catchy. The opener,  'Make Your Mind Up' has more of a Jimi Hendrix or Leslie West(Mountain) influence on it.  Lead singer and guitarist Paul Lamb has mastered the blues licks and really beefs them up.  His leads are a little more aggressive than Billy Gibbons but Paul is every bit as clean and precise.  His vocal's are a lot like BG's as well,  lots of soul with just the right amount of raw edge.  His support team, Mace Beyers(bass and vocals) and Chuck van Haecke(drums and vocals) play more like SRV's rhythm section.  Very tight, sometimes jazzy,  sometimes funky but always rock steady.  They keep the music flowing while Paul does his thing.  As far as I know there is no other blues rock band in the market today that follows in this format.  I hope this is a sign of things to come.  After all,  the blues are the foundation from which rock music began and it needs to continue to be part of our culture.

Overall

This is a four song demo and I'm not sure if it is available to the public,  but watch for their debut CD that should be out this summer. Their

music is very heavy blues rock.  A lot like 'La Grange' or 'Beer Drinkers and Hellraiser's' by ZZ Top. This demo rocks so I highly recommend keeping an eye on this band.  I'm sure we'll be doing a review on it after it comes out.

Questions or Comments? Email Mike by clicking
here
.