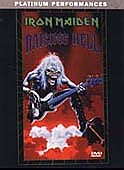 Peter Frampton-Live in Detroit

       ©1999 Image Entertainment, Inc.

            Running Time 100 Minutes

When thinking of the Stadium rockers of the 70's, Peter Frampton definitely comes to mind. This guy has been on te top of the world and knows well what it takes. An important part of a successful career is the live performance. That is what this DVD review is all about.

One thing that sticks out in a Frampton performance  is how well this guy plays guitar.  He can really shred when he wants to, but also has the grace and style to tone it down when necessary. Hey, he's a pretty good vocalist too.

The track listing is pretty good. With tunes like 'All I wanna be (is by your side), (I'll give you) Money, and the huge hit 'Show me the Way', this concert really wins. With new stuff like 'If you say Goodbye', he may have slowed down a bit, but still sounds as great as ever. This is a fun ride watching this DVD.

The sound has options. DTS, Dolby Digital 5.1, as well as Dolby 2.0 Surround. I prefer the Dolby 5.1 mix to get the surround live feeling from the rear speakers. Kind of envelopes you in the sound. The mix sounds great and has decent clarity.

The video is Anamorphic Widescreen which is a definite plus. The quality is very good. The DVD is the only real way to watch this aside from being there live.

As far as supplements, there are a few. There is a video interview with Peter as well as a biography and discography. Not a huge amount, but what else do you need on something like this. This is a pretty complete package.

For old fans of Peter Frampton as well as new, this DVD should satisfy. The hits are there. It sounds and looks good. It also takes you on a trip down memory lane to a time when the music mattered. A lot of bands could learn a lot from this high caliber musician.  Well done Peter and Image Entertainment!

Disc Rating 85/100

Performance Rating  87/100

Iron Maiden-Raising Hell

    ©2000 BMG Special Projects

      Running Time 113 Minutes

With the current reunion of Bruce Dickinson and Adrian Smith to Iron Maiden, this disc really becomes nostalgic. This was the supposed last performance with Bruce Dickinson before his departure to a solo career that would hine just as brightly.

The Illusionist Simon Drake is part of the show doing his magic gig between songs. He is quite good in some of the segments and not quite as good in others. For the most part, he does a good job..

The band jams through all of the fan favorites with the usual intensity they are known for. Tunes like 'Be quick or be Dead', 'Hallowed be thy Name',  'Heaven can Wait', & 'Run to the Hills' are all there. I was glad to see this disc hit DVD as quick as it did. Let's talk about the quality.

The sound is available in Dolby Digital 5.1 or Stereo. I prefer the Stereo mix on this disc. The 5.1 mix sounds terrible. Reminds me of stereo wide on the old tape decks of the 80's. Stay away from that mix.

Video appears to be pan and scan or full frame. Quality is okay. I believe this was filmed for a pay per view and was never taped in widescreen anyway. I could be wrong.

There are virtually no supplements on this disc. All you really have are chapter selections and full motion menus.

Am I happy with this release?? Well, it beats the VHS release, but is in know way done very well. The performance is very good however and is what warrants the price for the disc. I feel that DVD brings the extra element that VHS doesn't and was really disappointed that there wasn't anything added. Iron Maiden fans will want this anyway. I did.

Disc Rating 75/100

Performance Rating 88/100