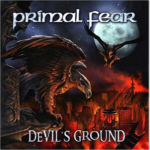 Primal Fear-Devil's Ground

    © 2004 Nuclear Blast America

Reviewed by Mike King

Ok, what if the entire world suddenly went into a paradisacal state of

melancholy euphoria, who's going to tell Primal Fear that they need to be quiet? Don't count on me, I'll be thrashing my head around and holding my mits up sporting the infamous horn symbol right along with these metal monsters. Their new studio album 'Devils Ground' is on the loose and redefining heavy metal music as it creeps its way throughout the underworld. 'Metal is Forever', the albums opener, is the ultimate metal statement. It's a powerful anthem that reaches out and pulls you in to their world and reminds us all that the music that we cherish is not about to diminish, not if PF has anything to do with it.  In todays world it has been pretty common to hear a song you like so you buy the cd and quickly find that that song was the only one of ten that was any good, there goes another fifteen bucks. Not so with 'Devils Ground' every song will satisfy your need to rock out. I totally dig Randy Blacks(drums) double bass attack and earth shattering fills throughout. He keeps every song pumping right through your veins. Stefan Leining adds some keyboards to songs like 'Wings of Desire' and (one of my favorites on the cd) 'The Healer' to pump the emotional factor up a notch or two. Singer Ralf Scheepers who has a phenomenal and

powerful vocal range really can set the scene and tell the story on each epic he sings. He deliberately brings you in and makes you feel as though you are part of the plot in tunes like 'Visions of Fate' and 'Heart of a Brave'.  Did I happen to mention that there are guitars, guitars and more guitars? Tom Naumann( check out his May 2001
interview
with Heavy Metal Resource in the interview section of this site) and Stefan Leining play some of the best and meanest guitar work that I've heard in a long time. Raw and gutwrenching but at the same time very clean and meticulous.  A great example of this is found on the track 'Soul Chaser'.  Definetly masters of their craft. Of course the heavy, crunchy rythyms and lighting speed solos wouldn't be possible without the rock solid bottom end of bassist and complimentary vocalist Mat Sinner who by the way produced this masterpiece.  Thank you Mat!  The cd ends with track 12 , 'Devils Ground' which isn't a song at all but Primal Fears' explanation of hell, where you can find it and what to expect if you should so find yourself there within it.
Overall

If you are in serious need of true Heavy Metal and are into bands like Halford or Judas Preist and the like then you'll find yourself at home with Primal Fears' 'Devils Ground'. It's Metal in it's purest form, heavy guitar riffs, ripping solos, anthem style lyrics that actually have meaning and plenty of attitude. Don't let this one pass you by. You'll miss out on one best albums to hit this planet in a long, long time.

Questions or Comments? Email Mike by clicking
here
.
Odium-5 track demo

    © 2003 Odium Music

Reviewed by Dave Palmer

Canada have offered much to the music scene in many years. You have hard rock greats Hanover Fist, April Wine, and many others. Turning it up a notch, and I mean a big notch is Odium. The band is young ambitious and hella agressive. Those who know me know that I don't go much for death style vocals, but do admit there is a market for it and these guys will do fine in the market, believe me. They have a certain power in the overall sound similar to bands such as Sepultura or the such. It's a bulky sound that runs right over the top of ya. The grinding rhythms pummel you and the drum beats finish you off. The music would lean it's way to Thrash there is no doubt. The album has 5 tracks that are consistent in nature. At times some of the guitar work reminds me of early Testament or bands like that. The band are off to a good start in the genre that they will appeal to. They may not open any venues for Bon Jovi, but they will make a mark, maybe even a bruise or something along those lines. For those who dig it dark, heavy as hell with album covers that put you a bit on edge, keep an eye out for these guys.

Overall

Heavy as hell and ready to go. This Canadian band have an angry assault ready to unleash. The music is heavy riff oriented with some serious kick drum action to round it out. It's a definite good start in the death metal genre. I'm not much into death vocals but the music here is similar to some of the bands I was listening to in years past. Death metal fans may want to check this band out. Website will be coming soon!

Questions or Comments? Email Dave by clicking
here
.