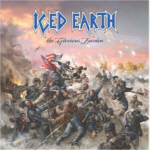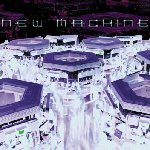 Iced Earth-The Glorious Burden

              © 2004 Hunter Records

New Machine-New Machine

     © 2003 Songhaus Music Group

When Jon Schaffer writes an album, he really puts alot into it. His latest effort also features former Judas Priest frontman Tim 'Ripper' Owens. The album is configured around the Battle of Gettysburgh, but branches out a bit in a familiar tone with looks at Vietnam, 9/11, etc. This album seems to be hitting a high note with the fans I have noted. For good reason too. The album is brilliant. The music is intense but at the same time has a finesse as well. Tim Owens really belts it out and in my opinion seems a bit more comfortable in this band. The artwork on this album is cool as usual. Lets take a look at the music. What I found throughout the album was consistency first and foremost. This album is a good spin start to finish and what a finish it has.  There is a visual tone set by each track such as 'When the Eagle Cries'. With the subject of 9/11 being serious, the song takes on that face but has a certain boldness as well. Not an overly heavy track, just gets the job done and shows a variety of emotions. Other tracks such as 'Greenface' get more aggressive as one would expect when looking at the subject of that tune. The music is perfectly matched with the tone of the subject. The icing on the cake is the final three part tune dedicated to Gettysburg. You get to re-live the battle through the music and the effects used in the creation of the song. Explosions and fighting mixed with intense rock and roll delivered only the way Iced Earth can deliver it. Very well done effort!

Overall

Another masterpiece from this verteran band. This band has been referred to as America's Iron Maiden and with very good reason. If you haven't given in to the urge to check them out, trust me, you are missing something special. The musicianship is tight and the songs memorable. This album takes a look back on some important events that shaped history. Great job guys!

New Machine is one of the latest offerings from Songhaus Music. Looking at titles you may be familiar with from this label, Britton was released a few years back as well as the reissues of the two Kick Axe through the reissue label Rewind Records. Now that you are aware where this came from, lets take a look at the release. The band to me are slightly progressive in ways, but not to the point of being over technical. This band would be more progressive accessible. There are some interesting things going on in the music that really made these guys differ from others. Vocal harmonies are definitely one of the things I am talking about. Sets them apart from others in this area. The band also embrace alot of melody, but can also offer a punch as well. The music is consistent which makes for a great listen. It will be interesting to see how far this band will go. They can definitely hang with the heavy hitters. Some of the music that I personally liked from the album included 'Going Home' which is a great opening track, 'Falling', 'Blood in the Ocean', 'Cold', and 'Waterfront'. Not to say that is all I liked, that is what jumped out at me on the first listen. I think if this band keeps working hard, they will have a bright future. This is a good signing for Songhaus Music and it would be nice to see it do well.

Overall

Great release from this progressive band. Not your typical progressive band however and seems much more accessible than some of the others that get too technical making it hard for casual fans to figure out. Good melodic tunes with a punch. Great vocal harmonies make this one a keeper. Make sure you keep an eye on this band in the future!