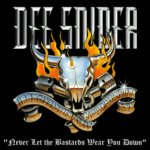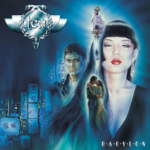 Dee Snider-Never let the Bastards wear you down

                         © 2000 Koch Records

    Ten-Babylon

© 2000  Frontiers Records

It's been a while since we heard some new Dee Snider material. Dee has been busy with his Nationally Syndicated radio show about hair metal and has also been doing the film thing with 'Dee Snider's Strangeland'. Been craving some tunes??  You're in for a treat.

'Never Let...' is a great assortment of tunes varying in style. When I say style, I mean varying between Widowmaker, Desperado and later era Twisted Sister. This will please most Dee Snider fans.  Dee knows a good thing when he sees it and goes back in time to his winning songwriting formula that propelled previous bands to larger audiences. All songs were written at earlier points of his career but never made the cut. The tunes are re-recorded and are up to todays standards.

'Hardcore' starts off the album with a bang. This track is very much like early Widowmaker material and rocks like hell. 'Call my Nmae' drops to the mid tempo, but really sets the feel of the rest of the disc. 'Our voice will be heard' and 'Isn't it time' continue in the same vein with great melodies and instantly memorable choruses. 'Cry you a rainbow' slows things a bit and shows that side of Dee that we are familiar with already.  For fans of nostalgia, 'The Wanderer' takes us back in time with a cool cover of of this classic tune. 'Uh huh huh' is your groove tune. Good party tune. 'Desperado' is back in mid tempo and I would venture a guess at what era this was written. 'Sometimes you win' and 'Ride through the storm' finish off the album in similar fashion.

This is a fun album to spin. It is very consistent which is interesting considering the different era's it was written in. Dee Snider has a trademark songwriting style. Let's hope we don't have to wait as long for some new material!

When you discuss bands that made an impact on Metal music overseas in the 90's, Ten definitely comes to mind. With their progressive feel and very well crafted musicianship, this is a band to watch out for if you are not familiar.  If you are, another chapter has been opened in an already illustrious career.

The album is concept in nature.  Taking us to the year 2999, the world is a post-apocolyptic state where humans live in dome cities that are bordering overpopulation. Entertainment is provided thru holosites and a large corporation called Cryotech. You get the picture right??  I don't want to spoil the album, so I'll leave it at that.

This album is well written and definitely Ten in nature.  It's not the heaviest album to date, but holds well on it's on. The music is accurate in it's presentation of the story. Emotional moments of subdue are characterized by slow tempo and dramatics bring out the heavier side of the band. Ir really paints a visual representation of the story.

The band sounds as good as ever and introduces veteran Don Airey to the Keys on this album. Gary Hughes smooth vocals are in usual fine form as is Vinny Burns' guitar attack. Ten is a very well rounded band with a lot to offer metal fans in an era where the U.S. market is dominated by extremely sub par talent.

I believe this album will see U.S. release as 'Spellbound' did. It may be a bit of a wait, but definitely worth it if you are not into buying imports. The album reviewed was the Frontiers version. This is a very good album and comes recommended!