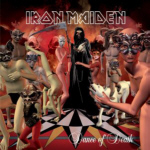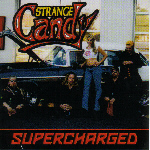 Iron Maiden-Dance Of Death

         © 2003 Columbia Records

Strange Candy-Supercharged

        © 2003 Strange Candy Music

Without a doubt Iron Maiden has reached the status of legendary. The band has been churning them out for nearly 3 decades. The band offers up their latest studio offering 'Dance of Death'. This album seems to me to be a revisit to times of old without losing times of new. As you listen to the album their will be tracks that remind you of another era. The sound is a bit closer to 'Brave New World'. The band as usual is gelling well together. The three guitarist attack is intact. So where would I rank this release compared to the rest? It's good, in fact it's very good. I am a little biased as I have been a longtime fan, but I'll try to put that aside. The album is a notch back from 'Brave New World' in my opinion. That album still amazes me to this day. There was a chemistry with the reinvention of the band that is a bit hard to duplicate. The new album has a bit of the same chemistry, but takes a bit more of a basic approach. There are some definite epic style rockers such as 'Paschendale' or 'Dance of Death' as no Iron Maiden album would be complete without them. 'Wildest Dreams' is kind of the 'Wicker Man' of the album in style. I was personally amazed at the closer 'Journeyman' which shows a bit lighter side to Maiden and really showcases Dickinson at his finest. The band have contributed well as a unit on this release and it makes the album shine.

Overall

Another damn fine effort by one of Metal's finest acts ever. I mentioned that I like 'Brave New World' a bit better, but am in no way downplaying this release. This album offers up a complete listen which is why this band has been successful to this point in the first place. I was kind of puzzled however with the artwork. I'm not a fan of CGI style artwork especially when it comes to Iron Maiden with their track record. It's a pretty minor issue and isn't the reason you buy the album anyway. It's an icing on the cake issue. In regards to this album, the cakes pretty damn good anyway! Recommended!

I don't live in a very large area and good bands are definitely far and few between. There is one band in particular that seems to be on the right track. Strange Candy. Yeah, it's an interesting name, but it fits. Some of you may remember Lord Tracy from a few years back. This band reminds me at times of them. There is a humor element that just makes you crack a smile as you journey your way through the album. The band also embrace a bit darker and heavier sound and even dabble i bit with progressive. One thing is for sure...it's all fun to listen to. The album opens and closes in the same fashion, with a bit of an instrumental mood setting. Looking towards the mention of progressive, the three part 'Sieze the Day' fits that bill with its lighter nature to start and eventually erupt into a heavier sound to close. There is even a reggae/rock tune that could be my favorite on the album titled 'C'mon and Dance'. The tune is humerous with a very upbeat tone. For a more chunkier sound, tracks like 'Once Again' and the raging 'Supercharged' will satisfy that particular need. Rock and roll has always been about having a good time and Strange Candy definitely have embraced the concept to the fullest. With this being the bands first release with promise of more to come, things will definitely be worth watching.

Overall

Every band eventually has to get their feet wet and this is a good start for Strange Candy. While the band may not have had a major budget to work with, the have poured it out where it counts the most, the necessary spirit. They are having a good time doing what they do and the release portrays it well. If you are looking for a release that will have you remembering what rock was meant to be like, this one's a good bet.