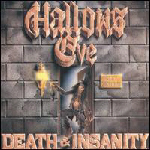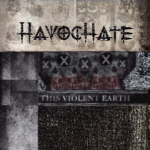 Hallows Eve-Death & Insanity

        © 1988 Metal Blade Records

HavocHate-This Violent Earth

       © 2003 Root of all Evil Records

I recently decided to dig into the vault and pull out a few of my older goodies. I go through these phases where I want to go back a little ways and revisit my metal roots. Hallows Eve was one of those bands that I listened to fairly frequently and so out of the vault it comes. Some may remember back when the movie 'River's Edge' came out the song 'Lethal Tendencies' taken from this album. That is also one of my favorite tracks on this disc. Dark lyrical content mixed with driving rhythms makes this album lethal. That really is the high point in my opinionj. The rhythm guitar work. Any fan of this genre of music from this time era will agree with the rhythm guitar notion. It is the driving point of what these bands do. It is also worth mentioning that most fans of this band vote this album their favorite on various websites. Looking at some of my personal favorite tracks I would include 'Death and Insanity', as mentioned before 'Lethal Tendencies', 'Suicide', 'D.I.E.', 'Attack of the Iguana' and 'Nefarious'.

Overall

This album is definitely worth the mention especially for fans of power and thrash styles of metal. A very rhythm driven album with elements of doom and destruction that still stand the test of time. I still find this album as fresh today as it was 15 years ago. It's just hard to believe it's been that long. I believe this album to still be in print and is definitely a cool addition to a metal fans collection.

There has been some very good metal albums coming into my hands lately. The new album from HavocHate is definitely one of those. This album was actually recorded a few years back, but the band decided to take it slow and reassess and eventually add to it. The album really sounds professional. What jumps out at you right away is the tightness of the music. At times HavocHate reminds me a bit of Overkill or maybe Exodus. The delivery is in the same league which really does add to the overall quality of this release. The band actually is doing what has already been done before, but with this style being so neglected over the last decade, it comes off sounding very fresh. Sure, there have been intense acts in the past 10 years, but from a vocal standpoint, this album is gonna make you more traditional fans of thrash very happy. I'm probably not going to list favorites because I think this album is very consistent in terms of quality and it seems senseless to try to push a few tracks above the others. In a nutshell, good listen from beginning to end.

Overall

This album will definitely be geared to the more intense listener. The music is tight with a bit of thrash flash here and there. As I said, it's nice to have a band release an album that could be lined up with the classics of the 80's thrash era. This album however does not in anyway sound dated. It is very fresh with some appeal going to fans of more modern extreme rockers. Very good crossover potential. I would highly recommend this release. It's a definite shredder!