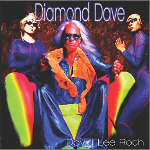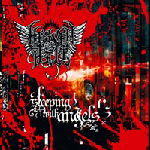 David Lee Roth-Diamond Dave

        © 2003 Magna Carta Records

After another long while, one of rock music's most colorful frontmen return with another offering. David Lee Roth without a doubt made his mark in a big way with Van Halen. He even had some very cool stuff coming out on his own. When I heard he was releasing a new album, I wasn't sure what to expect. His early albums were reminiscent of Van Halen while he got a bot more experimental later on. Which would he deliver. Well, it depends on how you look at it. There are mostly covers on this disc with a few new DLR originals. The covers are good with that typical DLR flair. Dave's vocals sound good. This album however is not going to appeal to the masses. The original material is not his strongest. Anything he does tends to make me smile. I just think alot of people are gonna be a tad disappointed in the original stuff. The covers are the stronger area of the album. There is some good musicianship in the people that lended a helping hand on this release. the only thing that will hold the appeal back for newer fans is not recognizing the cover tunes he does on the album. For the younger fan, most of them could be obscure. Dave definitely has his taste and I think he chose some great stuff to cover. There is some interesting art in this album as well. Typical of DLR once again. Women a plenty including Playboy models, the Dahm triplets. Don't look for any centerfold material here however. Has the humor we come to expect.

Overall

While this album is not gonna win the best album by DLR award, it still has it's merits. It seems like kind of a tribute to Roth's favorites. Maybe I don't even know what I'm talking about, but that is what it seems. The album is decent, but will not reclaim the throne for Dave. If you are looking for something rock and blues oriented, check this one out.

Heaven 'n Hell-Sleeping With Angels

          © 2003 Ranch Records (Spinefarm)

Another great band on the Spinefarm affiliate Ranch. What a surprise. Spinefarm without a doubt has some of the coolest bands on their side pf the Atlantic. Ranch artist Heaven 'n Hell is one of those bands. The band comes across sounding a bit like say...Child's Play, maybe. They have that late 80's to early 90's hard rock sound, but without a doubt are more gritty than the bands of that era. The band have a fair amount of attitude which is carried through to the music which adds more edge as well. There are 10 tracks on the album, all of consistent quality. A couple of the tracks are a bit heavier with a darker sound, but overall the feel is gritty as mentioned a minute ago. There is also an interesting hidden track and I'm sure you'll no where to find it. The song has a wierd intro and then sounds a bit like the rest of the album. The difference in this particular track is the singers laughing through the song. You kind of have to hear it to know what I mean. It's a bid odd, but sounds decent enough nonetheless so don't forget to search that one out. Out of the ten tracks I really liked the songs 'Turn me Around', 'Take my Hand', 'Two Lost Lonely Souls', 'A Cry For Help', and 'Paid All The Dues'. Most of these songs are short in length, but leave you feeling satisfied and ready for the next. It is interesting with as good as this band sounds that they formed only in 2002 which really makes them the youngbloods in the market. Young band or not, they are for real.

Overall

Solid effort from this young Finnish band. The music tends to be catchy with all of the songs being likeable. The band likes to classify their music as heavymetalpunk. It could attract both crowds, but I feel will appeal more to the hard rock and metal crowd. 10 catchy tunes to sink your teeth into. Don't forget to search out the bonus hidden as well. Very good stuff!