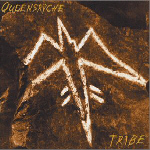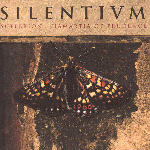 Queensryche-Tribe

© 2003 Sanctuary Records

Silentium-Sufferion: Hamartia of Prudence

                    © 2003 Spinefarm Records

It's been quite some time now since we heard music that involved Chris DeGarmo who moved on from the fold a few years back. After a few albums that most felt weren't quite up to par (although I liked Q2K well), I think fans may like this new one. 'Tribe' isn't the Queensryche of old, but at the same time, it isn't the Queensryche we heard in the last few years either. The core elements are there. The musicianship is as well. The one thing I think that makes this album cool is the guitar sound. There are some pretty heavy vibes in places including the opener 'Open' and 'Desert Dance'. One thing that is also there that is always important on a Queensryche record is the atmosphere. There is more than plenty of this. Tracks like 'The Great Divide' and 'Rhythm of Hope' are flowing and full of the depth the band is known for. Some of this album reminds me of 'Promised Land' in this department. The overall sound is a bit more gritty. 'Rhythm of Hope' does incorporate some orchestration which adds alot of depth. It's not 'Silent Lucidity' due to its more upbeat tempo, but it is still very cool. This album delivers some of what fans have been wanting for a bit... great Queensryche music played with the bands unique chemistry and that chemistry was completed with DeGarmo being involved this time.

Overall

This album is a step back in the right direction for the band. I have been following this band from my first purchase of the ep back in the early 80's until the present. While it may not be the bands most vigilant effort, it does provide most of the bands core fans with a good listen and that's really what it's all about. Good release from a great band.

Silentium's new album 'Sufferion' may rank as one of the years most ambitious efforts. The album is like a rock opera or play on a grand scale. What makes this album so well done is the fact that the story is laid out very well and understandable. Between songs you get vocalized acts with characters. Some of these parts are a little lengthy. Well, not that lengthy, but not as short as the usual. Anyway, the story does get laid out in easy terms to understand or at least that's what I thought. As far as the music, it's quite good. The band is tight and offers a great delivery. The songs are big in production to give the album a complete feel. In a way, it kind of reminds me of Savatage's 'Streets' album which I liked a lot. As far as favorites, that's a hard one. When you have an album where everything is a piece of the puzzle, it's more of one big song. But looking at the songs individually, I really do like 'Flame Still Burns', 'Lost Is My Name', 'Heart Unyielding', 'Whither in Silence (killer vocals on this one), and the closing epic 'Beyond' that clocks in around 11 minutes and finishes the story. It is important to point out that the music is all of consistent quality. In other words, for those who like grand rock productions, this one is excellent!  

Overall

This really is a great album. It shows even more the diversity of the acts on Spinefarm's roster. Not many bands attempt large productions such as this. It seems that they either succeed or fall flat. This one definitely succeeds. Top notch musicianship as well as overall job on the disc. Great release! Recommended.