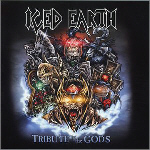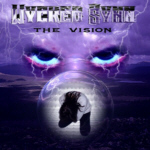 Iced Earth-Tribute to the Gods

            © 2003 Century Media

Wycked Synn-The Vision

       ©  2003 Chavis Records

Iced Earth release to the fans a platter of covers that should make any headbanger happy. From Judas Priest to Iron Maiden to Blue Oyster Cult. The thing that I find funny is how parallel Shaffer's taste is to my own especially going back to the heyday of the eighties. He also offers up pictures of some of his concert tickets as well as some good liner notes on what these bands mean to him and their influence on his career. This album really is a trip down memory lane for not only Jon, but any fan who was a part of it. As far as the music, it is done true to the original nature with the Iced Earth signature. I think the tunes chosen from each band was excellent as well. Judas Priest's 'Screaming for Vengeance', Iron Maiden's 'Hallowed be thy Name', and Kiss' 'Creatures of the Night'. All tunes I can identify with personally. The artwork is also fun to look at. You can see the influence of each band in the way the cover was designed. This package was very nicely done in my opinion.

Overall

If you like covers, this album is a gem. The track listing is top notch. The music is performed only the way Iced Earth does it. The liners are fun to read as is the art to look at. For those who lived that particular era, it's fun to take that trip down memory lane and reminisce. Recommended!

For those die-hard metallers that have been missing over the top guitar playing, quick double bass beats and soaring vocal power, the wait is over. It is kind of a rare find to see a band playing music of this caliber in this time era, but Wycked Synn is doing it and doing it well. If I was to make a comparison soundwise, I hear Shok Paris mixed with Hittman and George Lynch all over the place. You have the raw intensity that Shok Paris used to deliver while at the same time the finesse that Hittman embraced. The album is well balanced in terms of tempo. As far as that guitar playing, Ken Orth has that Lynch sound down and better than most I have heard with the exception of Lynch himself. Structure wise, the album is sound. A good portion of the tracks near or hit the 5 minute mark, but at the same time never leave the listener bored. I didn't find much in the way of weakness. I think the album is put together well with a bunch of great musicians. Some of the tracks I really liked include 'Tell the Tale', 'Let it Rain', 'If you said goodbye', 'K.M.A.', and 'In my mind'.

Overall

You know, if it was the eighties, these guys would be huge. It's not so the road may be a bit steeper, but these guys have what it takes to make it. If a scene was to break out here in the States, these huys would definitely be in it. The album is of high quality and gives the listener a satisfying listening experience. Definitely worth checking out! Recommended!