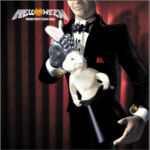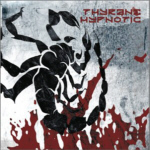 Helloween-Rabbit Don't Come Easy

              © 2003 Sanctuary Records

Thyrane-Hypnotic

© 2003 Spikefarm Records

Been a while since we heard from one of our favorite melodic speed metal bands. Helloween is one of the best at it after being around for a long time. The new album should make many of the fans very happy. Upon starting this disc there is a very short wait, like next to none at all for the band to make a statement where they're at in their career. They are entrenched right where they are best.... melodic yet ferocious compositions. Not to say that this album is a double bass feast from beginning to end. It's not. They do exist however to please. Fans of this band expect those types of numbers on the albums and the ones that are there are absolutely cool. Take for instance 'Just A Little Sign' or 'Liar'. These songs will reaffirm that the band has never lost it. Now I don't want to make it look like they did either. These kind of tracks just put a smile on us diehards face. There are more melodic based rockers such as 'Open Your Life', 'Sun 4 The World', and 'Listen To The Flies'. It's all there. The elements that make a great Helloween record. One of my favorites is the multi-tempo closer 'Nothing To Say' that clocks in just over 8 minutes long. Starts heavy, gets dreamy, ends heavy and dreamy. All in all the songwriting is very good on this album and it shouldn't disappoint the Helloween faithful.

Overall

The band doesn't really embark on any experimental journeys which is fine by me. Consistency is what makes a bands career. If you are a diehard fan, this one should please you. It may not be 'Keeper of the Seven Keys', but it is classic Helloween with a delivery only they could offer. This one makes a welcome addition to any metal fans collection. Good stuff!

Thyrane is classified as Mechanized Black Metal. These guys are pretty interesting for being this kind of band. When they say mechanized it really adds a twist to the norm. The band in ways reminds me of Rammstein, but Thyrane is a bit more Metal oriented than they are. The element that is remiscent of Rammstein is a bit of the keyboards and a bit more of the way the guitar rhythms are laid out. It all sounds pretty cool no matter where the comparisons are. This is another band that doesn't fit the normal sound of what an American audience might expect with black metal. Looking more at the music, although most of it is similar it is all pretty cool. Tracks like 'Human Weed' and 'Dance in the Air' have a nice balance of keyboard and guitar that give an overall catchy vibe. There are more guitar driven tracks on the album such as 'Firework', 'The Symptomatic', and 'Of Suns and Flames'. There are also some more atmospheric numbers such as the short 'Armaya' and 'Heretic Hunt' that give a slightly different angle on the band although some of their common elements are evident as well. I was really surprised by this band and actually found the disc to be a fun catchy listen. This band shows even another angle on what Spinefarm has on their roster which quite frankly has been pretty impressive so far.

Overall

After not knowing what to expect I came out pretty satisfied. I had not really heard the term mechanized associated with metal before, but it actually fits the band well. Stop and start rhythms and such. I am a fan of Rammstein and could see some similarities in the two bands albeit small they are there. Song structure and deliver mostly. If that is your kind of vibe, this will suit you very well. Recommended!