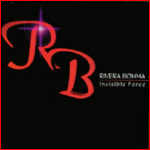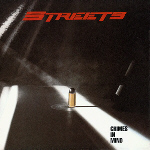 Streets-Crimes in Mind

© 2002 Wounded Bird Records

Rivera Bomma-Invisible Force

      © 2001 B & R Music Publishing

Here is another great release from yesteryear. You may remember this band but if you don't, it features Steve Walsh from Kansas as the frontman. This was the bands second release and really the only one I had heard until recently when I picked up '1'st'. The music on this disc is very melodic and in some ways very similar to the Kansas album 'Power' from a few years later. I do believe this album had been issued on disc previous to this release from Wounded Bird, but this is the one I grabbed. Everything on the release is true to the original including artwork and the sound is good. I am not totally sure whether the music is remastered on this release, but it does sound good. This is one of those releases that got a lot of play time back in my earlier days of rock 'n roll.  Back then I was buying anything and everything and this one was one I had never heard. I definitely came away surprised and fulfilled. Some of my personal favorites include 'Don't look back', 'The nightmare begins', 'Broken glass', 'I can't wait', 'Rat Race', and 'Turn my head'.

Overall

Another worthy reissue from Wounded Bird Records. Pay attention to this label because they are really releasing some great material. The fans who are familiar with this release will agree on it's quality. Very good music via 1985 from some very good musicians. Definitely essential.

Rivera Bomma really caught my attention. The band may be considered Christian by some, but as the band puts it, there is a positive message in the music the make. This is really interesting as some may remember Johnny Bomma from a stint in the speed metal band Hades in the 80's. Times have changed and so has Bomma's direction. The other half of Rivera Bomma really has a talent as well and the union of the two is magic. Rod Rivera really shines in many places on the album. What I really like is his injection of Flamenco. A very difficult style to play, but delivered very well by Rivera. Some of the areas of Flamenco usage include a part in the multi-part 'Eclectic' which is also one of my favorite tracks. 'Hold on' embraces it as does 'Full moon in Spain'. I really like the Flamenco usage and feel it not only pays tribute to Rivera's Latin heritage, but enhances the tracks that it appears on. The music on the album overflows with melody which is one of it's best attributes. Bomma's vocals flow well with each track and the listen is consistent. This album won top honors on the site for March 2003 and really should appeal to fans of AOR oriented music. Some of my other favorites include 'Invisible Force', 'Tarot Reader', 'Cry of Love', 'No win situation', and 'Give you my love'.

Overall

This album really displays confidence and technique. Rivera Bomma is a great union of musicians with similar direction in much more than just music. In a time where a lot of negative is found in the scene it is nice to see something different. The music is top notch and very consistent throughout. A definite hit and worth checking out.