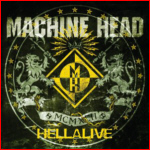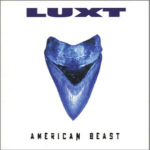 Machine Head-Hellalive

  © 2003 Roadrunner Records

Luxt-American Beast

© 2003 Blackliner Records

Here is a band that has been around for quite awhile. I have actually followed this band from their debut forward.  Now the fans are finally offered a live platter from the band. The album really showcases the bands live experience and a pretty good track lineup representing the bands career this far.  What also makes this release fun is how the band controls the crowd and that interaction in general. There is a very noticeable bond between the fans and the band. I remember catching this band on the tour they embarked on for their debut. As good as they were back then, you really sense their confidence now with this release. As far as the track selection, all albums are fairly well represented. Some a little better than others, but with four studio albums under the belt now and 14 tracks, you can do the math. Anyway, The release sounds great quality-wise and displays the bands intensity well. I think the selections from each album are decent as well although opinions may differ. Who would know better than the band what the fans react well to and prefer, right?

Overall

This really is a good live release.  Lot's of energy and attitude combined give you the feel of being there,,, well, sort of. Anyway, if you are a fan of the band you probably already have this. If you are a fan of metal and do like live material, you should check this out. Good stuff!

Luxt is a Sacramento based band that leans more towards an industrial sound. The band is fronted by female vocalist Anna Christine and also includes bandmates Erie Loch on keyboards, guitar and vocals, Crash on bass, David H on Guitars and additional bass, and Frost on drums. The band stylistically leans more towards a modern sound, but really do have a good vibe. The band can get fairly aggressive but never lose the catchy element. What surprised me is that I had never heard of these guys before now. This is the bands fifth full length album with the first dating back to 1996. When I mentioned industrial I am not talking full blown Ministry type stuff. It actually might lean more towards Nine Inch Nails although the bands are quite different. Anyway, the band seems to be picking up steam and has really put together a decent release that has a fair amount of atmosphere, but really strives to grab you by the ass than change your mood. Some of the tracks I personally like include 'American Beast', 'How Lovely', 'Cease', the very catchy 'Suck it down', 'Infinite', and 'Jitter'.

Overall

Another release for the bit more adventurous listener. If you are fairly narrow minded in your approach to hard music than you may not find this to your liking although I think in some areas it's possible. I wasn't sure if I would like it, but came away feeling pretty good about it. This band is poised to make their mark and this release may just be the thing to pull it off.