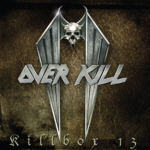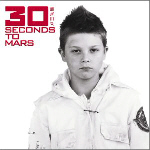 Overkill-Killbox 13

© 2003 Eagle Rock Entertainment

30 Seconds to Mars

© 2002 Immortal Records

When one mentions that a new band is a project of an actor people tend to get a bit nervous. 30 seconds to Mars is the latest such project that features Jared Leto. You may remember him from movies such as 'Fight Club' and 'Panic Room'. The results on this release are pretty damn good. This band has a quite a bit of a modern edge and a whole lot of atmosphere. Actually, it is the atmosphere that really pushes this release and provides a very entertaining listen. There are hard driving guitars, synthesizers, and some very good melody. I want to get this out of the way right now, this release is not geared to a bunch of flash, but to more of a thought provoking experience. Maybe a bit like that Chroma Key release featuring ex-Dream Theater keyboardist Kevin Moore. Don't compare the two bands however because similarities are minimal. There is an enhanced portion of the disc which contains some multimedia content such as an e-card of the complete song 'Capricorn', a behind the scenes segment, and some web links. It is also worth mentioning that Bob Ezrin was involved in the production which is pretty big in itself. Some of the songs I really liked include 'Capricorn', 'Edge of the Earth', 'Fallen', 'Oblivion', 'Buddha for Mary', 'Echelon', 'End of the Beginning', and 'Year Zero'. It seems that the first half of the album is a bit better than the second, but I think the album is pretty decent overall.

Overall

While this album may not be for everybody, I found it a good listen. I have always been a bit adventurous in my taste. I have always had a love for metal and hard rock, but have also liked more atmospheric moody music as well. This release falls into that category. Very moody synth rock. If you are adventurous and looking for something entertaining at a low price, check this one out.

What more can you say about Overkill. These guys are absolutely the most consistent power metal act out there. A lot of my respect for these guys from the fact that they have never followed trends. They have been making their aggressive style of music from their inception even through today. The sounds have changed quite a bit since those early days, but Overkill's sound has remained largely intact. Doing things with integrity has kept their fanbase and the new album 'Killbox 13' will only cement it all. In some ways this album reminds me of 'I Hear Black'. The album really has a power grind throughout, but also picks up in tempo and thrashes about on tracks like 'Unholy' and 'I Rise'. Overall, the album is a bit more power oriented than thrash this go around, but not any less cool than previous efforts. Taking a look at some of the other tracks on the album you will find a lot of consistency. 'Devil by the tail' opens in fine fashion with a good vibe. 'Damned' is similar and is very guitar driven. 'No Lights' and 'The One' continue with the feel of the album this far. 'Crystal Clear' is a gem. Very heavy guitar sound and Ellsworth's vocals remind me of 'Spiritual Void'. Very nice delivery. 'The sound of Dying' is very riff oriented and has a cool groove throughout. 'Until I Die' may appear a bit lighter in intensity, but has a very dark feel that progresses with varying tempo. 'Struck Down', 'Unholy', and 'I Rise' finish out the album a bit more intense and very typical of what you would expect from this great band.

Overall

Another great album from one of the best Power Metal/Thrash acts of the late 80's. This band never ceases to amaze me. Although not as fast as some of their previous efforts, this release will no less fulfill your appetite with it's heavy vibe and attitude. Being a big fan of this band you know I'm gonna recommend it. Heavy Metal at it's best!