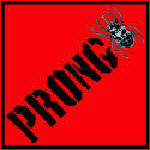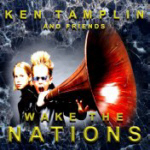 Prong-100% Live

© 2002 Locomotive Music

Ken Tamplin and Friends-Wake the Nations

                     © 2003 Songhaus Music Group

Now here is a band that I am glad is back. These guys were ahead of their time for sure and influenced alot of modern acts even if it goes uncredited. Prong embrace an industrial style that is a bit unique. Not only are they heavy, but they add dance style beats and have one helluva groove. Some fans of the demised Headbanger's Ball from Mtv will remember some of Prong's music used as the outro's to and from commercial breaks. The band offer us this time a live release with some of their very best material. The songs were recorded from a couple of shows in Chicago and Detroit. Songs are faithful to the originals. Just to give you an idea of some of the tracks on the album you get 'Rude Awakening', 'Controller', the popular 'Snap your fingers, snap your neck', 'Beg to differ', 'Another wordly device', one of my favorites 'Prove you wrong', 'Close the door', 'Whose fist is this anyway', and the awesome 'Unconditional'. Also, there is a newer track in 'Initiation' that is geared more to their more recent sounds. It is worth mentioning that the band embraced a few different styles including their early Thrash style, the 'Prove you wrong' style that introduced the loops, and their more recent Industrial offerings. All are represented on the live disc which should provide a good listen for fans of all era's.

Overall

I am a big fan of this band and have been for a long time. When the hard rock scene was becoming to generic, I turned to band like Prong. I didn't leave my hard rock behind, but did find some new excitement with what Prong offered. Maybe time has now caught up with them and people will find a new appreciation. This is a good release for those who want to pack around one disc with a variety of great tracks. The live sound is good enough. Recommended!

I remember meeting Ken Tamplin at one of the Ultrasound events. Two things struck me at that time, how professional Ken is and how friendly. It's no wonder that when he wants to do a project alot of friends come along for the ride. Now you know this release is gonna be good when Jeff Scott Soto appears on the first track. Being a big fan of Soto, I was impressed.  I think it is important to mention a couple of things. First, the copy I am reviewing is a promo with 15 tracks and one video. The final release will actually have 18 tracks and two video tracks. Second, this is not a shredder release. Now I know that Tamplin can play and there definitely is a presence of great guitarists including Jeff Watson, Doug Aldridge, Richie Kotzen, Reb Beach and Pete Lesperance, but this release is definitely a rock based album with a lot of melody and a great groove throughout. I also think it is worth mentioning that this release is consistent in quality and of very high calibre. Some of my favorites include 'The story of Love' which is the track that features Jeff Scott Soto on vocals, the timely 'We've Jihad enough' which also features some of my favorite solos, 'The man with a plan' which has a cool groove, the rocking 'Wake the Nations', 'God in Heaven', 'Mystery', the comical '7 Eleven People', 'Saints and Heroes', 'Come together', and the melodic 'Sing'. This album definitely has quantity as well as quality!

Overall

This really is a great record. The guest list is very impressive as is the quality of the music. I was absolutely astounded by the consistency of this record. Also, the music is very upbeat which is a nice change of pace from a lot of the doom in music today. I also was impressed that the video was offered not only in Quicktime format, but also in Mpeg format for those who like higher res. The video by the way is for the track 'Falling Houses'. Not sure at this point what the other track will be for the video portion on the final release. This release definitely comes recommended!