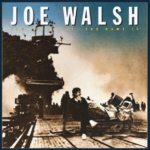 While this may not be a metal release, this is one of Joe Walsh's most underrated in my opinion. Just a great and fun listen. This album finally gets it's reissue via Wounded Bird Records who is also responsible for the recent Vandenberg and Axe titles. As far as the music, most who have heard this release will claim 'I.L.B.T.'s' as their favorite. For those not in the know... 'I love big tit's' is the title non-abbreviated. I hadn't heard this tune in a long time and laughed as hard as the first time I heard it. Anyway, I find this album enjoyable and typical of what one would expect from Walsh. Good rock 'n roll with some tongue in cheek humor. The music is pretty consistent overall and definitely marks a distinct chapter to Walsh's career which is pretty colorful for sure. Some of the other tracks I like include 'Told You So' which is co-penned with Don Felder, 'The Worry Song', 'Space Age Whiz Kids', 'Class of '65', and the closer 'Theme From Island Wierdos'. Overall, not his most popular album, but I think it is one of his more enjoyable discs.

Overall

I am really happy with the selection of material that Wounded Bird is reissuing. I really believed at one point that some of these titles would never make it out of the vault. This particular album has been on my search list for a long time and to no avail. If you are a fan of Joe Walsh or just dig good old rock 'n roll, pick this one up. It's a classic!

Joe Walsh-You Bought it... You Name It

                © 2002 Wounded Bird Records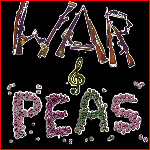 Matt Kramer-War & Peas

    © 2002 Lascivious Records

It's been a long time since I had heard anything from former Saigon Kick frontman Matt Kramer. I remember hearing the band for the first time and thinking how unique they were for the time they surfaced. As a matter of fact, when I decided to make the conversion from cassette tape to Cd, Saigon Kick's debut album was the first disc I owned. After a couple of great albums Matt was no longer in the band and Jason took over on vocals. Well, Matt resurfaces with his new solo album 'War & Peas'. For fans of early Saigon Kick, this album will be welcomed warmly. Now in my opinion this album doesn't really sound like Saigon Kick, but does have that unique feel that fans will expect from Kramer. Most of the tunes have a distinct personality to them and are not really predictable. What I find interesting is the fact that George Lynch co-penned some of these tracks. So, do they sound like Lynch's trademark??  Not really.  These tracks really have Kramer's stamp on it. Hard driving rock tunes to sink your teeth into. Some of my favorites on the album include 'Goodbye to all Tomorrows', 'Spinning Round', 'Powdered Blue Skies', 'Change', 'I'm getting closer', 'If God could hear me now', and 'Silence'. While you can hear where Kramer's influence was in Saigon Kick, this album stands on it's own with only a hint here and there of his former band.

Overall

It's nice to have Matt making music again. There is just a comfort in having musicians around that put a lot of effort and thought into their writing which is what Matt does. Check out the official Matt Kramer website for more info on purchasing this disc.