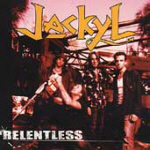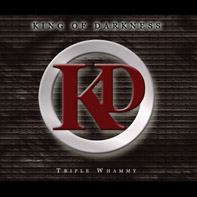 King of Darkness-Triple Whammy

                       © 2002 Lion Music

You know, when it comes to the Japanese, they have an unmatched passion for Metal and seemingly always have. From the great market to the bands. Now there have been some bad Japanese bands, but there have been some pretty good ones as well. Take for instance Loudness or Sly, or maybe more recently guitar virtuoso Kelly Simonz. The latest is also one of the best, King of Darkness. The band is a three piece outfit that comes across with great songwriting and tightness. The music is metal oriented and has a very catchy groove. Vocally, Genta Nakamura is very good. Usually the complaint I always here when people are knocking Japanese bands is the vocal area. This will not really be a valid point with Nakamura. He gets the job done and even pulls off a great sounding ballad style track called 'Long Way'. Most of the album packs a punch With there being a lot of music on the market to choose from currently, something really has to set a band apart. I feel King of Darkness has that little something and it's in the form of great hooks and rhythms. The music is absolutely infectious at times. Some of the tracks I'm referring to include 'Deceptive Victim', 'None of your cheeks!', and 'Road to Madness'. This is the kind of music that gets the adrenalin pumping. The title track 'Triple Whammy' is another gem. The track really shows off the bands capability as musicians. This band is very solid and is a great sign for Lion music. Bravo guys!

Overall

This album contains ten tracks and they are all amazing. The band has put together one of the years best albums. With the onslaught of albums out there, I'm gonna give you som help. Buy this disc and tell everyone else to buy it as well. If you are a metal fan, you are gonna dig this disc! This one comes very highly recommended!

Jackyl-Relentless

© 2002 Humidity Records

Do I ever remember these guys. I remember when there brilliant debut took the world by storm in a very unfriendly era for the genre. Must have been the chainsaw, eh?? That debut had alot of quality stuff with plenty of attitude. This new record has alot of the same qualities. I think the band has never sounded better and it's great to have them back for this release. The new album has some similarities to their great debut. The production is equivelent. The music really sounds good production-wise. Lyrically, it's pretty typical of Jackyl as well. The songwriting is good and probably just short of the debut's caliber. Debut's are really hard to surpass in alot of cases. Looking at the music on this disc, you have the attitude rockers such as 'If you want it heavy (I weigh a ton)', 'Mr. Evil' which at times sounds alot like Bon Scott's vocal style, 'Vegas Smile', 'Heaven don't want me (and Hell's afraid I'll take over)' with it's spunky nature and groove, and who can forget the chainsaw track 'Billy Badass'?? I find myself buying each Jackyl record and looking for what Dupree is going to do with the chainsaw next. While there isn't anything over the top on this song, it's still a fun listen and will crack you up. There are also some laid back tracks that change the tempo of the album a bit. These tracks include 'Down this road before', and 'Lend me a hand' which is a bit lighter, but has a heavy vibe at the same time. The oddball of the album would have to be 'Curse on you'. It has a very different feel from the rest. It sounds very dark, but is presented well and doesn't distract from the album in any way.

Overall

I really like Jackyl and always have. I have continued to follow the band with each release and feel they are still in the top of their game. This release really doesn't have much weakness and in my opinion is one of the bands best since the debut. Definitely get out there and check this one out. You'll be glad you did!