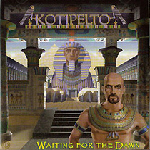 Ted Nugent-Craveman

      © 2002 Spitfire Records

Kotipelto-Waiting for the Dawn

          © 2002 Century Media Records

Ted Nugent is without a doubt a legend when it comes to rock 'n roll. Actually, he is probably a legend as well when it comes to the outdoors, but we are after all looking at the new record. He brings some serious attitude and humor to his music and really epitomizes what a rock star should be. The question begs now, when will Uncle Ted slow down. Well, not at the moment. His new record is great. There is element on this album that hasn't been this obvious since his 'If you can't lick 'em ... lick 'em' days. He also shows his ability in the guitar parts which by now is well documented. The album also gets a bit aggressive not only musically, but vocally. In short, this albums a real romp! This is what Nugent fans have been wanting. Let's take a look at the album. It opens with the craze rocker 'Klstrphnky'. The song has a good groove and over the top vocals. This song is a pretty good indication of what's to come. One of my favorites is 'Rawdogs and Warhogs'. The song reminds me of something that could've been on 'Little Miss Dangerous'. One thing is for sure. The guitar playing meets the trademark. The music is very consistent as well. One element that is hard to overlook is the humor as mentioned before. Take for instance song titles like 'Cum n gitya sum-o-this', 'Change my Sex', 'Pussywhipped', 'Wang Dang Doodle', and 'My Baby likes my butter on her gritz'. I think yo get the point. I'd bet the PMRC would anger quick just off of the titles. The album isn't just a comedy one-off as long time fans will already know. The music will keep you entertained as well. I really like the whole album and feel that Nugent has got the job done once again.

Overall

I can say that this is what I wanted from Ted. I love his rock 'n roll assault mixed with the kind of humor he has dished up for years. This album reminds of why he is referred to as the Motor City Madman. A quality product once again from one of rock's most colorful talents. Highly recommended!

Timo Kotipelto is the force behind one of metal's best acts, Stratovarius.  One will wonder where Kotipelto will come from from a creative standpoint for releasing his recent solo album. Well, quite frankly it's not all that different from Stratovarius but does have it's own identity. The album is still classified as melodic speed metal naturally and is pretty solid. There are some sounds that are reminiscent of other acts. You know there will be without a doubt comparison to Stratovarius and that would be true with tracks like 'Lord of Eternity' or 'Knowledge and Wisdom'. I think the album carries well on it's own though. There is also some very melodic stuff on the album such as 'Beauty has come' and the atmospheric closer 'The Movement of the Nile'. Most of the music falls into the mid-tempo rocker area. There is some pretty good stuff such as 'Battle of the Gods', 'Vizier', the epic style 'Chosen by Re', or 'Arise'. The album has an Egyptian theme flowing through it which is plenty obvious just by looking at the artwork. That is also worth mentioning. The art is top notch and provided by one of the best artists out there, Derek Riggs. Most will remember Riggs from the many album covers that he created for Iron Maiden as well as the more recent covers for Stratovarius. The music is definitely a journey and comes off well. There are some guests on the album including Mike Romeo, Jari Kainulainen also from Stratovarius, Roland Grapow, and many more. A great effort from a very good vocalist for sure.

Overall

Timo Kotipelto definitely hits the mark with his solo effort. It's different enough that it shouldn't be just another Stratovarius style record. The album has it's own personality and stands on it's own merits really. I guess my point is that if Timo wasn't well known as the singer of Stratovarius, this album would still please fans and prove his overall viability as an artist. This definitely is an overall great package and is worth checking out!