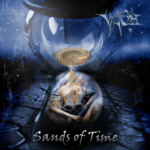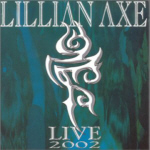 Lillian Axe-Live 2002

  © 2002 Red and Gold Int'l

  Vagh-Sands of Time

© 2002 Slick City Slackers Prod.



It's been a long time since I saw Lillian Axe. I actually caught the band on the 'Psychoschizophrenia' tour when they toured with Accept and Strip Mind. It's amazing just how much has changed in the music scene since then. The show I saw was actually in the middle of the Grunge revolution that basically drove this style of music underground. Anyway, to get back to where I was, it's been a long time in the making. I am referring to Lillian Axe's live album. It was recorded in Houston, Texas on May 4th of this year.  The track selection pretty much spans the bands career of six albums. and close to 20 years.  With this album being a live album I guess you would look at what the band chose for the live show. The album is a 2 disc set and contains 21 tracks. I don't really have any complaints with the songs chosen. Sure, there are a few I would've liked to have seen on the album, but with this bands back catalogue you would have to have 3 or 4 discs to please all. I think the selection will please most. The band sound good and keep the music true to original. The band has given the fans what they have been asking for for a long time... the bands first live recording.

Overall

Live albums are a little tough to critique. The fans of the band already are aware of the music. I do believe that this is actually more than just a live recording. It is an offering of thanks to a loyal fan base who have supported the band unconditionally. Lillian Axe really does have a loyal fan base. It is just unfortunate that a lot of the bands recordings are out of print. This album is a fun trip down memory lane and is a great way to tide us over until the bands next studio effort which is suppose to be in the works.

In a time when some people may shun the great 80's era of melodic rock, Vagh totally embrace it. Robin Vagh and company grew tired of the music scene in general and wanted to inject some fun and melody back ito it. After some demos and a lot of encouragement Robin put together his band and recorded their first release 'Sands of Time'. The first thing that caught my attention with this release is the artwork and overall package. The release is independent, but really looks like it was released by a large label. Very well done I thought. Now getting to the meat and potatoes of what this is about... the music. This band is very good. They have written a collection of 10 tracks that are very reminiscent of the 80's era. Big keyboard sounds, melodic vocals and harmonies, as well as that great guitar playing. The band also has a bit of a Scandinavian sound as well. This is a very upbeat record as is shown on the uptempo rockers such as 'Tricky', the title track 'Sands of Time', 'Blue Collar Proud', 'Hypnotized', 'Sleepwalking' which has that familiar 80's keyboard sound, and the closer 'In the heat of the night'. There is ballad material in 'Alison' which is sang by guest vocalist Noomi Stragefors. There is also a bit of a heavier tone in 'Book of Shadows' which reminds me a bit of 'Mob Rules' Black Sabbath.

Overall

I really like this record. It's funny how much denial there is for 80's melodic hard rock. What makes it funny is how people are willing to spend good money on releases on ebay and then go back in the closet on the subject. Not Vagh. These guys have made a record that they can be proud of and hold their heads high with. There is indeed a fanbase for music like this. Whether it be for just nostalgia or good fun, this music does have longevity. This is a band to keep your eye on. If I would try to nail the era of the 80's down, I would say it was close to mid-80's rock. Nice job guys!

For more info: