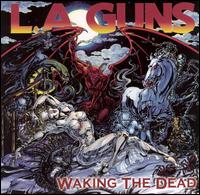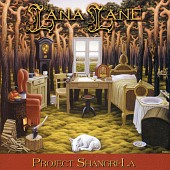 L.A. Guns-Waking the Dead

         © 2002 Spitfire Records

Lana Lane-Project Shangri-La

      © 2002 Limb Music Productions

L.A. Guns has definitely become a veteran rock band with many years of experience not to mention many albums as well. The band have had their periods of experimentation, but more recently have settled back into their comfort zone. It is worth mentioning however that the band were not as experimental as some and were maybe appearing that way due to some of their frontman changes. Well, with Phil Lewis in the fold as he was on the last release, the sound is closer to what the early fans will want and expect. It is a bit of a mix of early era and maybe a bit of the 'Hollywood Vampires' sound as well. This is noticeable immediately upon listening to the opener 'Don't look at me that way'. Rolling through the album you really can tell how good this record really is. The aggressive 'OK, let's roll' gets a nod from me for it's cool heavy vibe. Continuing that trend is the title track 'Waking the dead', the melodic rocker 'Revolution', the punkish sounding 'Psycopathic Eyes', the groove rocker 'Hellraisers Ball', and the album closer 'Don't you cry'. The album has a slowdown with the appropriately titled 'The Ballad'. One of my favorite tracks is the atmospheric 'Frequency'. Sounds a bit like 'Vampires' stylistically and has that atmosphere, but also packs a punch. The only song not mentioned is 'City of Angels' which is one of the most upbeat in tempo and a good listen.

Overall

I really like this release. This is probably my favorite release since the crushing 'Vicious Circle'. This album is a bit heavier than the early stuff and a bit lighter than 'Vicious Circle', but is very comfortable in my opinion. The band isn't trying to reinvent metal, just trying to deliver their own in a big way. If you are a fan of hard rock and metal, don't develop an opinion on this one until you hear it. I recommend it!

I had heard of Lana Lane, but really hadn't heard any of her records until now. I was really surprised at the quality and delivery of her music. Lana embraces a very big sound in her music with a lot of atmosphere and symphonic composition. She also has some very cool guest musicians. Probably the most involved is husband Erik Norlander. Norlander is widely known for his composition skills and also produced this album. Also on the album is ex-Malmsteen vocalist Mark Boals. Vinny Appice is drumming for Lane on the album and there is also a guest appearance by Fair Warning guitarist Helge Engelke. Looking at the music, it's quite impressive. Most of the music carries a fair amount of depth. This depth is evident in most of the varying tempos which is a great effect. For instance, the title track 'Project Shangri La' is a bit more uptempo with a lot of atmosphere and at the same time 'Before you go' uses the atmosphere and depth to portray the emotion of the song. It really is delivered well. Lana Lane's vocals are also impressive. She utilizes certain elements in her voice and really has a nice flow in her approach. Other tracks I really dig include 'Tears of Babylon',  the melodic 'Ebbtide', the rocking '(Life is) Only a dream', and the bonus track 'Romeo and Juliet' which was recorded back in 1999 and featured Ayreon members as well as Tony Franklin.

Overall

This is a very high quality release that really doesn't have anything weak on it. Lana's vocals are very well done and the music is very strong and well written. For those who like good melodic music as well as some symphonic addition to the music, this release will without a doubt please. Great album!