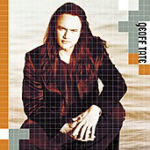 Geoff Tate

© 2002 Sanctuary Records

Phantom Stranger

© 1999 Night Shade Music

Geoff Tate has definitely estabished himself as one of rocks premier vocal talents. Many successful albums with Queensryche have gone by and amazingly enough there really haven't been too many side projects to speak of by the bands members. Well, Tate has decided to explore his creative side and release a solo album with totally different band members. The curiosity here would definitely lie in how the album would head in direction. Queensryche have always been the innovative type of band who have really created a movement all of their own. The album definitely takes an atmospheric approach as one would expect considering the source. Their are some different areas from the norm here as well. Not to say this album is a total exploration though. There really is some familiarity here that makes the album a good listen from the first spin of the disc. The album opener 'Flood' has a bit of programming to it but sounds exactly as a fan of Tate would expect. Melodic with very good vocals as usual. Melody really is the key to this album. The album reminds me of 'Empire' in many ways, but sounds a bit more modern. This is evident on 'Forever'. Good track though. One of my favorites from the first listen is 'Helpless'. The track is Flamenco flavored and really could be a huge hit if allowed. Continuing a light trend are tracks like 'Touch', 'Every move we make', the dreamy sounding 'This moment', and 'In other words' which sounds like a light Queensryche track. 'A Passenger' is a bit uptempo with mood element. The strangest track in my opinion is 'Off the TV' which is my least favorite due to it's too modern sound although Tate pulls off the vocals well. Closing this album is 'Grain of Faith' which is a bit psychadelic sounding adding freshness to the album, and 'Over me' which is the heaviest track on the disc due to the grittier guitar sound but does change tempo as the song progresses.

Overall

This really is a great record. It actually does sound like something Queensryche would do, just a bit lighter. It is actually the album fans may have wanted from Queensryche after 'Promised Land'. I feel that Tate is a complete artist and this album shows why. Highly recommended!

Illinois based Phantom Stranger has really been around for quite a long time. The band formed in 1989. Granted, there was a hiatus, but the band reformed in 1997 and has been doing it ever since. The band embraces a traditional power sound. The album opens with the crunchy 'Trembling'. The vocals on this one remind me a bit of Shane from Law and Order. Same qualities in a way, but not a clone. Very straight forward approach that works well. Throughout the album I hear familiar influences such as Iron Maiden in some of the guitar work as is evidenced on 'Taken away', 'Masks', and 'Out of time'. What makes it similar is the bass usage working with the rhythm. The band do this quite well. Tracks like 'If I have to' and 'Shades of Ivory' show another side to the sound of the band. Maybe a bit more atmospheric and subdued but equally intensive. The band makes their presentation pretty consistent throughout the album in terms of quality. It really is amazing how they have grasped a sound that some may think was long lost. They have built a good foundation to grow into the next album. Another notable mention is the band working with Rex Carroll on this release in a production capacity which isn't a bad thing to have on your resume. If Rex believes in you, you must be doing it right!

Overall

This is a very good release that is very unexpected in a market dominated by bands who want to bludgeon you. Phantom Stranger rely on a more technical traditional sound and should be proud of that fact. Good melodies, musicianship, and vocals make for a good listen. If you have been starved for a style that has been neglected for some time... check these guys out!