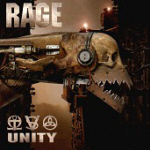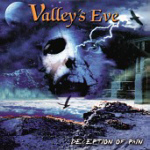 Rage-Unity

© 2002 SPV/Steamhammer

Valley's Eve-Deception of Pain

               © 2002 Limb Music

Longtime  Metal veterans Rage return with a new release via the SPV/Steamhammer label. The band lineup consists of Bassist Peavey Wagner, Guitarist Victor Smolski, and Drumming sensation Mike Terrana. This new release is the bands first for SPV. The music is hard driving with a good amount of melody at the same time.  The band really gels well and display a good amount of technical proficiency. What seems to be consistent in this release is the hard driving rhythms and the memorable choruses as is displayed on tracks like the opener 'All I want', 'Dies Irae', 'World of Pain', etc. The tempo of the album is very consistent and is a definite high point of the release. Another point worth mentioning is the attitude. Not necessarily is it pissed off, but has a bit of an edge that makes each track fun like the track 'Down' which is one of my favorites due to not only the music, but Wagner' approach in the vocals. If you are looking for impressive guitar work, this album will hit that mark as well. Smolski gets creative in his solos and really burns up the fretboard on tracks like 'World of Pain', 'Living my Dream', 'Seven Deadly Sins', and 'You want it, You'll get it'.  The showcase track of the album would be the Smolski penned title track 'Unity' which let's each member solo yet not get so carried away that you lose the feel of the overall song. Musically, this album is very complete and really shows the band at it's best.

Overall

I really dig this release alot. I couldn't really find a weakness in it and found each track as consistent as the next. This is the type of album an artist wants to make. One that the fans will get and understand the way the band meant it. I found the musicianship to be excellent as usual coming from these guys. I will definitely call this release one of the years best and highly recommended!!

Limb Music never seem to amaze me. I look at the labels roster and can't believe how well they do signing great bands. Valley's Eve are another artist for the label to be proud of for sheer writing and creativeness. The band have recorded a conceptual album that looks at the subject of suicide and failed attempts through a book by an American Psychiatrist. The album is the bands third to date. The band I believe would fit best into a power metal category due to their hard driving nature with underlying traditional metal elements. The band is very riff oriented with a good amount of melody most noteably in the chorus areas. The album also displays a fair amount of atmosphere which makes it even more enjoyable to listen to. Some of my personal favorite tracks include the grinding 'The Fire Burns', 'Mirror in your eyes', 'Falling', 'Open the gates', and 'Unholy power'. What I really like is the interesting use of keyboards especially on 'Unholy power' and 'Open the gates'. The keys are used for atmospheric effect and used very minor but contribute a great deal to the overall effect. I believe this band to be very creative and thought provoking. Consistency is good throughout the album with all tracks being enjoyable and really no filler that you see with other acts once in a while. I didn't find this release that predictable which definitely enhances the listen. Sure, you know what they are about, but don't necessarily know what is coming next.

Overall

This is definitely another quality release from Limb Music and really comes across well. With the amount of melodic speed metal acts out there, these guys are kind of unique. Hard driving metal that is also sensible and not to overdone and polished. Just enough grit there to maintain honesty. This one really caught me off guard with it's quality and consistency which makes me recommend it to you!!