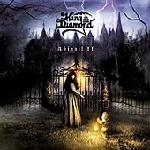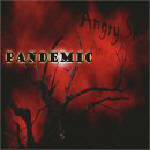 King Diamond-Abigail II

  © 2002 Metal Blade Records

Pandemic-Angry Sky

  © 2002 Dreamscape Music

King Diamond is still exhibiting some serious ambition even after all of these years in the business. One thing he hasn't done is sold out his musical integrity to the trends of the music world. While some bands were busy detuning and writing in a style less becoming to them, King continued his dark Metal assault on the senses. 'Abigail II' is a sequel of sorts to his original 'Abigail' album released in 1987. The album is referred to as 'The Revenge' and is fairly dark in the material throughout which is basically what fans have come to expect anyway. Consider the source, eh?? Musically, the album is complex in a way yet still accessible and typical of what Diamond has been churning out for a very long time now. Looking back to the original 'Abigail' album, Andy LaRocque is the only remaining member besides King, but this version of the band is very solid musically as well. The music definitely acts out as a Rock opera in a way with the story weaving through each track. Some of the tunes I dig include 'The Storm', 'Little One', 'The Crypt', 'The Wheelchair', and the haunting 'Spirits'.

Overall

While I don't really get into the darkness of King Diamonds subject material, I think he has merit musically. Looking at the length of his career, he must be doing something right. The album is good, but doesn't tread a lot of new water. King Diamond seems to know his comfort zone and stays with it much to his fans pleasure. I'm sure they will probably dig this one as well. There is definitely a lot of time and effort put into it to take notice.

Some of you may be familiar with Town Cryer XXI. A great progressive outfit that was based out of New York and played a pretty solid progressive style. Well, with some member change as well as a new name, Pandemic, this band is really ready to go after the masses. Enter 'Angry Sky'. One of the early contenders for album of the year 2002. My jaw about hit the floor when I heard this disc. It has a more modern Godsmack type sound, but also incorporates a ton of melody. Sort of like slamming the melody of the 80's with the crunch of the 90's. Nothing is lacking here. The opener 'Out of time' sets the tone early and the ride the rest of the way is very memorable. Now to name my favorites on this disc is a bit hard due to the consistent nature. The album is solid all of the way. I'll give it a try anyway. I love the opener. The choruses are instantly memorable. Next up and maybe my most favorite is 'This is the life'. Also, 'Glitter' has an amazing vibe. Very melody driven and accessible. 'Angry Sky' has a bit of an Alice in Chains feel but not completely. It works well. 'Best of me' is cool with it's depth and laid back tempo. For the Progressive, 'Thy Majesty' is awesome. This tune will show you how musically inclined this band is. 'Well of Souls' is my absolute favorite of this disc. The thinking man's track. This tune is so balanced and sensible it's incredible. Very solid and effective.

Overall

To say this band is really good is an understatement.These guys are ready for the bigtime. They have put a lot of effort into this album and have hit the ball out of the park. I had to pry this one out of the player before it became a permanent fixture. One of 2002's heavy hitters for sure. Very complete and offers something for everyone. I have played this for people and have heard nothing negative about it I guess you know what comes next....  Very highly recommended and essential!!