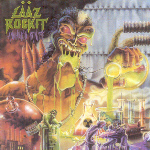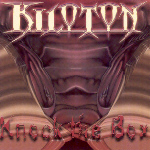 Laaz Rockit-Annihilation Principle

                 c 1987 Enigma Records

Kiloton-Knock the Box

       c 1999 Kiloton Music

The Info

Kiloton is a Canadian based power metal band that delivers their musical assault much in the same way as their fellow Canuck metalheads Annihilator does. Vocals are a bit different than Annihilator, but the delivery is a bit similar. The album carries a 1999 copyright and features musicians Ross Butterfield on guitars, keys, vocals, and some bass, and Brad McDonald on bass with some vocal work as well.

The Music

The album has a pretty cool vibe I was a big fan of the thrash and power metal scenes of a decade or so ago and really dig this kind of stuff. There is the much needed attitude here as well as the technical efficiency. The music is very consistent and is a virtual grindfest. Intensity only slightly varies from very heavy to heavy. Some of my favorite tracks include 'I' the knot', the great cover of Anvil's 'Winged Assassins', 'Knock the box', the very fast 'Open your mind a crack', and 'Face Value'. This album is definitely old school, in your face heavy rock 'n roll delivered with a lot of punch.

Overall

This disc is a great ride from beginning to end for those who like the old school speed metal. It's amazing how many good albums are overlooked with the sheer volume of titles out there. If you can get your hands on this one, I'd bet you won't be disappointed.

The Info

Fans of old school thrash metal need no info on this great 80's metal band. The band was really finding their groove on this album in my opinion. Great videos were released, music was leveled and consistent. This is without a doubt one of my favorite Laaz Rockit releases. The album is now out of print, but can be found in the Old Metal Records pressing which is sufficient, but not the greatest in quality. Sound is decent though.

The Music

'Fire in the Hole' baby! You remember the video for this one don't you?? Starred Duke Nukem before he was Duke Nukem (well, not really, but he sure looked like him, right??). I loved that video. Love the song equally. The great thing about this release is the consistency of each track. Heavy and in your face, yet accessible. A power metal fans wet dream. How about a Dead Kennedy's cover in 'Holiday in Cambodia'?? Really like their version of the classic Punk tune. It's great live as well.  Other favorites include 'Shadow Company', 'Bad Blood', and 'Mirror to Madness'. I'd say the only problem with the bands contribution to this album is it was a bit short. Us Metal fans are greedy. We want more!

Overall

I've said it before. The band hit the mark with this release. I feel it is their best and I'm sure others will agree. I would get my hands on this one. They seem to sell well on ebay, but I would really like to see the bands back catalogue reissued properly with remasters and original art. Maybe even some bonus stuff that has some quality to it. Don't miss this one in your collection.