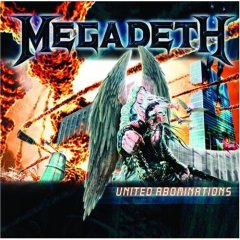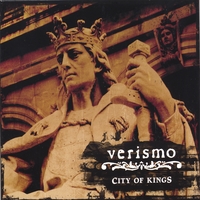 Megadeth

'United Abominations'

© 2007 Roadrunner Records

Verismo

'City of Kings'

© 2006 Verismetal Music

Reviewed by Dave Palmer

For a band that everyone thought was finished a few years back, it seems like they still have quite a bit to say. Dave Mustaine returns again on 'United Abominations' with the Drover brothers and James Lomenzo on bass. This album is definitely fueled by political subject material. As we live in very political times with alot of unrest as a result, it's no surprise that Mustaine chose the title and feel that he did. This album to me is very solid. The music is heavy as one would expect and in my opinion has a very classic Megadeth feel. I said that with that last release as well, so take this as a continuation of that. It's nice to see a band embrace what put them on the map in the first place instead of trying to do everything but that. The album opens with the heavy track 'Sleepwalker'. This tune definitely sets the pace. 'Washington is Next!' has a familiar guitar sound to it. Can't place it at the moment, but sounds classic metal for sure.  I really like 'United Abominations'. Not only the title track, but one of the albums best. Definitely tells it like it is. That is one of this albums best attributes. It takes no prisoners when it comes to the lyrics. Calling it like it is if you like. 'Gears of War' is another personal favorite.  This song has nice punch to it. 'Blessed are the Dead' is another classic sounding Megadeth tune. 'Play for Blood' has one of the best sounding vibes on the album in my opinion. Love the rhythm guitar work. 'A Tout Le Monde' is a re-recording featuring Cristina Scabbia, Lead Vocalist of Lacuna Coil. It's similar to the original obviously, but has just that bit more vocally, especially near the choruses. I prefer the original version, but this isn't too bad. 'Amerikhastan' is an interesting tune, especially lyrically. If you follow world events and get pissed of by any, you'll love this stuff. The album closer 'Burnt Ice' really smokes, especially towards the end of the song. This album just represents what the majority of Megadeth's career has been about. Great, very heavy, metal music offered up American style. Way to go once again guys!

Overall

Very solid speed metal album. In a time where it gets increasingly more difficult to just get an album that is angry and heavy and has traditional tones, Megadeth ratchets things up a notch and offers up one of the years best albums to this point. Definitely some of their best work as well. Comes highly recommended for you fans who like it on the heavier side!

Questions or Comments? Email us by clicking
here
.
Reviewed by Dave Palmer

'City of Kings' has actually been out for a while now, The album is independently released by the band and available at certain outlets at this point. The album has 10 heavy thrash metal tracks. If I had to even try to give a comparison to who these guys may sound like, I might mention Corrosion of Conformity, but not completely. Both bands sport the same very raw sound. It's all about the instruments and the attitude and less about effect. This album comes across to me as being very consistent not only in terms of tempo, but in quality as well. Verismo hail from Brooklyn and consists of Stephan Laboccetta handling guitar duties as well as vocals, Vincent Cruz on bass, and Tamas Vajda on drums. If you really wanted to get down to it, you could say this band has a bit of punk that shows up at times as well as the raw metal, so there may be a bit of crossover appeal here as well. Looking at the music in general, as mentioned...it's heavy, and very raw. The type of music in my opinion will translate very well to the live show. The flow was very even and then came the track 'The Lorax'. It always cracks me out when I hear songs that involve Dr. Suess stuff. I believe Tracy G, former Dio axeman did one as well. Anyway, back to this review... there really isn't anything here that would classify as mellow. The band prefers a more straight forward attack leaving just a subtle amount of melody in a song here and there. I would say that I like 'The Lorax' about the best. Other tunes that struck my fancy include 'Enemy' due to it being a great way to get the album started. 'City of Kings' has a cool guitar vibe to it. Maybe a traditional sounding grind. 'Moment of Clarity' starts off slow and then rocks out. 'For the Record' is similar. 'Hope' is another cool tune. Has that similar build up. For new fans that like heavy music, this band will fit well. Just remember that they present it really raw sounding, but do keep it quite consistent.

Overall

A pretty decent independent release from this Brooklyn based band. They play it very raw which should translate very nicely to the stage. The music is quite consistent from start to finish. Tempo stays pretty much the same as does the vibe. If you dig stuff like C.O.C. or maybe even Black Label Society, you may want to get over to CDbaby and check out the sound samples from these guys. If you like, grab a copy of the album.

Questions or Comments? Email us by clicking
here
.