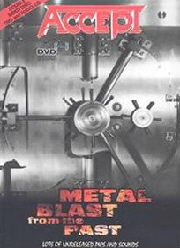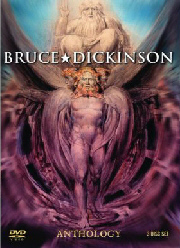 Accept

'Metal Blast From the Past'

       © 2002 Breeze Music

   Bruce Dickinson

         'Anthology'

© 2006 Duellist Holdings Ltd.

Reviewed by Dave Palmer

Specifications:

Stereo

NTSC Full Frame 4:3 Aspect Ratio

DVD Plus (CD/DVD Flippy)

Running Time: Approx. 100 Minutes

Special Features:

Discography

Behind the Scenes

Photo Gallery

Audio Samples from all Accept albums

Websites

Biography

So What's it About?

This is a very good compilation from what I believe to be one of the best metal bands of the 80's. Although the band carried on well into the 90's, they made their mark in a very heavy way. This compilation of material chronicles the band with concert footage, promotional videos as well as some unreleased audio on the flipside. It is similar to what we know as DualDisc, but is actually called DVD Plus.

Quality of Disc:

While some of this stuff is a bit dated and shows it in minor ways, this is a very nice presentation. I was a big fan of the band and still am. I was very happy to see someone step up to the pump and get some of this stuff to the consumer. There are 2 different live performances. One is from the 1985 Osaka show and the other is the Live Sophia '93 broadcast on Bulgarian TV. The promotional videos are a very nice addition. I was always a nut for these types of things. With a plethora of extras, although nothing fancy, this is a very nice package.

Quality of Features:

As already mentioned, the features are typically standard fare. It is nice to see the abundance of song samples in the Discography section. There are at least 2 samples per album. There are also lyrics for all of the albums which I thought was ambitious. I also enjoyed some of the behind the scenes stuff. It is nostalgic now to go back and see how things were back in the heyday of great metal music. Kind of a trip down memory lane. The CD side is also kind of cool as well. There are 9 tracks to this portion of the disc, the majority being 8 track demo versions of tracks from the album 'Breaker'. Extra's are definitely a plus on this package.

Overall:

I've been wanting something like this from Accept for a very long time. I cut my teeth in metal with this band in the early 80's and they definitely hold a special place. There is quite a bit here in the way of content. Without knowing what all there is from this band, I would have to say that this package feels complete. At the same time, I almost hope it's not. With the band basically defunct at this point, you always want to hope that there is a little more out there that can still be brought out at some point. It's finally here however, and if you even liked this band a little, I would definitely recommend you go out and get this DVD.

Questions or Comments? Email Dave by clicking
here
.
Reviewed by Dave Palmer

Specifications:

PCM Stereo

NTSC Full Frame 4:3 Aspect Ratio

3 DVD Set

Running Time: Approx. 6 Hours

Special Features:

Tyranny of Souls EPK

Samson: Biceps of Steel

So What's it About?

This is a very complete package of concert footage and promotional footage. Taken from the 'Dive Dive Live', 'Skunkworks', and 'Scream for me Brazil' concert presentations. It all spans across 3 DVD's with the third containing the promotional videos that Bruce released throughout his very good solo career. There are also a couple of features added to the disc that give it a well rounded feeling.

Quality of Disc:

In this case it's quality of discs. This is a very nice DVD set. What I like most about it is that you can see Dickinson evolve in his career through the live presentations. From the early days of the short Samson clips to the more recent material and his work with Roy Z. It is very obvious how well Dickinson has matured as an artist through the years. The promotional video segment shows this as well. From the early videos from 'Tattooed Millionaire' to the recent footage of 'Abduction' from 'Tyranny of Souls'. There is no doubt that there is a difference in songwriting approach. Sound on this disc is adequate, no complaints. I'm a widescreen type of guy. While this is Full Frame, I also found this acceptable due to the source material. It's a very nice package in terms of quality.

Quality of Features:

I found this particular portion of the package quite fun and informative. First up is the Samson shorts from the 'B' movie 'Biceps of Steel'. This is hilarious stuff. I always liked Samson, but never knew about this little gem. It is introduced by Bruce Dickinson and he gives a little insight into what this was all about. This is way cool and way nostalgic. The other feature is an electronic press kit from the 'Tyranny of Souls' album. It is basically a very informative and enjoyable interview with Dickinson. This is also a very worthy addition to the features section of the disc. I don't know about anyone else, but Dickinson always reminded me of Lizzy Borden vocally really early on with Samson. Listen to the 'Biceps of Steel' portion and you will see what I mean.

Overall:

Another nicely done set. We have seen some very nice work done with Iron Maiden to this point. It is equally nice to see Bruce Dickinson get the special treatment as I think he has done some very good stuff in the solo portion of his career. The set really commands attention with the 3 discs and the sheer caliber of what is spanned across them. From the three separate concert's to the promotional video segment all the way to the Samson footage and 'Tyranny of Souls' EPK, there is a feeling of being done thorough and attention being paid to detail. If you are even a casual fan, this is definitely worth checking out!

Questions or Comments? Email Dave by clicking
here
.