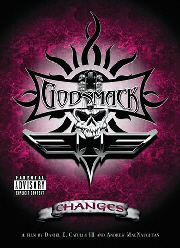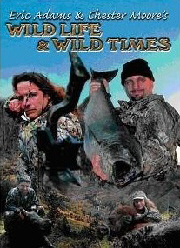 Godsmack

    'Changes'

© 2004 Zoe Records

Eric Adams & Chester Moore

      'Wild Life & Wild Times'

         © 2006 Magic Circle Music

Reviewed by Dave Palmer

Specifications:

Stereo, SRS Circle Surround, 5.1 Multichannel, DTS 5.1

16:9 Widescreen (Shot in High Definition)

Running Time:

Region Code 1

Special Features:

Photo Gallery

So What's It About?

This presentation is somewhat of a documentary/concert. It is filmed during the bands 'Faceless' tour back in 2003. As you watch the main part of the film, it gives you documentary segments, then live concert footage. The band interviews are quite informative and give you plenty of insight to what Godsmack is all about.

Quality of Disc:

This is a very nice presentation. I like the fact that there are plenty of audio options to choose from. I obviously went with the DTS option. The video portion looks really good to. The concert was shot using 14 high def camera's, so that portion is really no surprise. I even think the track listing is very good. This band might surprise rock fans who may have resisted getting into them due to their timing (Nu-Metal). I think Godsmack is one of the better domestic heavy bands. As the band describes in some of the interview segments, they were raised on old school metal such as Black Sabbath and Aerosmith. It shows in the bands performance as there is plenty of pyrotechnics and stage presence. The best part of the show to me was the drum battle between Sully Erna and Shannon Larkin. It is titled 'Batalla de Los Tambores'. This is fun to watch over and over. You will have no problems with repeat viewing's due to the fun nature of the DVD.

Quality of Features:

I can't really knock points from this release in this area. There really isn't alot in the way of extra stuff, but other releases may include documentary's as a feature. Where the documentary and interviews are added as part of the main film, you can't really dock. I would love to see the bands promotional videos added at some point to a DVD release as I am a nut for them.

Overall:

I really have to give this release high marks. It's very well rounded and all of the technical bells and whistles are here. The only thing I found distracting was the portion to watch just the concert footage. There are some very obvious breaks after each track due to the way it was authored. I would love to have seen this handled via seamless branching. Other than that, this is a very cool look at the bands live show as well as their history. For thus who are unaware, Sully was actually the drummer in the early 90's band Strip Mind, and apparently had some time with Meliah Rage. He is a very good drummer and this is what makes the drum battle extra cool. Definitely worth checking out!

Questions or Comments? Email Dave by clicking
here
.
Reviewed by Dave Palmer

Specifications:

Audio: 2.0 Stereo

Format: 4:3

NTSC Region Code 0

DVD-5 Single Layer

Running Time: Main Program: 82 Min. Features: 37 Min.

Subtitles: English; German

Special Features:

Slideshow

Bloopers

Soundtrack Music

So What's It About?

Outdoor journalist Chester Moore and Manowar frontman Eric Adams tackle all kinds of hunting in this documentary or experience if you like. If you thought Adams was just good at being a rock and roller, you be mighty surprised at his skill in fishing as well as chasing and hunting game. The DVD offers the viewer a look into a wide variety of hunting styles, animals, and some great music soundtrack written by Eric Adams himself.

Quality of Disc:

For what this presentation is, I really have no complaints. Sound is adequate. Although I am a big widescreen guy, that is also not necessary in something like this. The content on this disc is what really matters most. The music soundtrack is a very nice addition. Adams has put together some very cool visual music to go along with the main presentation, and you can check out the audio only portion.

Quality of Features:

There's not a ton here, but what is here is cool. The soundtrack is probably the best part as mentioned above. The bloopers will crack a smile and the slideshow gives you some stills from the hunt. Pretty much all standard fare.

Overall:

This is a pretty interesting watch. I didn't realize that Eric Adams had a Nugent side to him. What I found equally interesting was the respect for nature the two had. Anyway, these two hunt everything from Rams to Emu to Turkey. They hit the water to get some King Salmon, September Salmon, and Bull Red Fish. I love the outdoors and this presentation gives you some very good ideas on where to go and what you will find. Probably the most obvious question I might get asked, is why are you reviewing this on the website? Well, I'm offering another side to a very good musician from a very good band. Also, the DVD is offered through Magic Circle Music which is Joey Demaio's label that also houses Rhapsody, Bludgeon, and obviously Manowar. So hey, it's a rock and roll thing anyway eh? Summing it all up, it is an interesting viewing and the extras including the soundtrack music which is rock based, make this one worth checking out, I guess unless you are soft hearted. Enjoy!

Questions or Comments? Email Dave by clicking
here
.