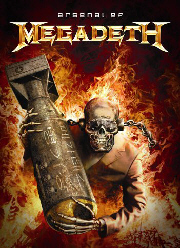 Megadeth

'Arsenal of Megadeth'

  © 2006 Capitol Records

Reviewed by Dave Palmer

Specifications:

2 DVD Set

NTSC

Dolby 2.0 Stereo

4:3 Aspect Ratio

Running Time: Approx. 3 Hours

Special Features:

Might be some hidden stuff

So What's it About?

This 2 disc set gives the viewer a journey through the career of Megadeth and it's members. There are promotional videos, interviews, guest appearances on shows such as Mtv's Headbangers Ball, etc. This set with a few minor exceptions is the most comprehensive history of Megadeth to date.

Quality of Disc:

Well, as mentioned there are 2 actually. The visual content is good with the only defects that are noticeable coming from the original source material. With some of this stuff dating back around 20 years old, it really does end up looking quite good. As far as audio is concerned, it seems adequate when you consider the viewing material here. There was a time or two where there was a bit of a muffle and I had to turn it up, but it's very minor and probably once again due to original source material limitations.

Quality of Features:

There really isn't anything labeled here as a special feature. This set to me is completely a special feature type thing. It's fairly thorough with what it offers and some of the content is what other bands would offer as a special feature.

Overall:

I have always been a big fan of Megadeth and have seen the band live many times. This is the kind of boxset I wish all of my favorite bands would compile. It's always really cool to look back on this stuff years later such as the 'Mission: Megadeth' Headbangers Ball appearance and enjoy it and remember better times. I had actually recorded that show on VHS back in the day and with the wearing down that goes along with tape, I was really glad to see this stuff resurface on DVD in this package. I also enjoyed the videos as well as some of the older interview stuff that I had not previously seen before. There is an awful lot to see here and it is all enjoyable. If you are a fan of Megadeth, this set is an absolute no brainer. There is also suppose to be some hidden stuff? Or so I hear anyway. Haven't had a chance to find it myself, but if you pick it up maybe you will fare better than me. Very cool boxset!

Questions or Comments? Email Dave by clicking
here
.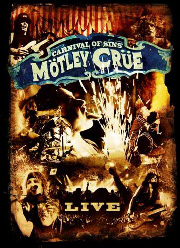 Motley Crue

         'Carnival of Sins-Live'

© 2005 Masters 2000, inc. Motley Records

Reviewed by Dave Palmer

Specifications:

2 DVD set

NTSC

Dolby Digital 5.1, Dolby Digital 2.0, DTS 5.1

16:9 Widescreen Aspect Ratio

Running Time: Approx. 200 Minutes

Special Features:

Inside the Big Top 'A Motley Docruementary'

Motley Crue's Greatest #its

Meet & Greet

Disaster! The Movie

Blow it Up

Music Videos - 'Sick Love Song', 'If I Die Tomorrow', 'On With The Show' A Time Lapse View

So What's it About?

This package is a live recording of the bands 2005 'Red, White, and Crue' World Tour. There are some decent bonus material in this set, but the bulk of the good stuff is in the main presentation. I have since this band many times and had a chance to catch this tour last year. The highlight as I was hoping for was the return of Tommy Lee and the drum solo that he always brings to the performance. The band perform tracks all the way from the beginning to their latest compilation.

Quality of Disc:

Once again this presentation is offered on 2 discs. The band has set a new standard of quality in DVD presentation with their 16:9 presentation and the 3 audio choices of which I went with DTS which is the norm for me. Picture quality is very good and the band in the performance sound amazing as they did the night I saw them live. The performance shows just how timeless the band is and just how much chemistry is present with the original four members.

Quality of Features:

The bulk of the set is in the live performance obviously, but there are some great promo videos added to the set. Also, you get a documentary on the tour and the band which is interesting. You also get Motley Crue's Greatest #its or so it's labeled on the box that way. Anyone who saw the show live will be familiar with Tommycam and what that is all about. This feature is the best of that part of the show. Not sure what that is all about? Guess you'll have to get the set to find out, huh?

Overall

Motley Crue has always put on a very big show. I think this one tops 'em all though. Not only do you get the bands normal over the top performance, but there are aerial dancers and acrobats, a fire blowing midget, some demonic clowns, and the drum solo...did I already mention that. It was a blast to watch. The quality of this package is incredible. The band shot the presentation with 20 cameras, had the crowd going ballistic, and offered enough pyro to blind ya for days. This truly was a great reunion tour with the four original members and it did the one thing I was hoping for most. It showed the world that music is meant to be fun and over the top. Music has suffered in recent years from lack of originality and spirit, but with Motley back on the road, everything came alive once again. I can just hope that the band don't wait six years to do it again. In the meantime, this will hold you over nicely!

Questions or Comments? Email Dave by clicking
here
.