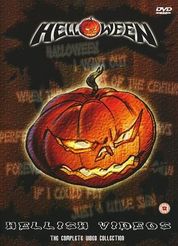 Helloween - Hellish Videos

         © 2005 Helloween Ltd.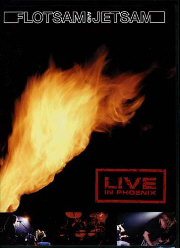 Flotsam & Jetsam - Live in Phoenix

               © 2004 Magick Records

Reviewed by Dave Palmer

Specifications:

Aspect Ratio 4:3

Dolby Digital 5.1 ; Stereo 2.0 English

NTSC Region 0 : All regions

Running Time: 66 Minutes

Special Features:

Bonus Live Track: 'Hey Lord'

Tour Outtakes

Photo Gallery

So What's it About:

The bulk of the disc is a collection of the bands promotional videos that they have produced thru the years. You get videos from both the Kiske and Deris era's obviously. There are 13 total videos with some added bonus footage in the extras section.

Quality of Disc:

No real complaints here. Some of the videos are quite old now, but look decent. Andi Deris was involved in putting this compilation together and did a great job. The sound quality is good in both 5.1 and stereo. I really have no complaints with the way the disc was put together.

Quality of Features:

Not alot here, but what is here is kind of fun. You get a live version of the bands hit 'Hey Lord'. There are also some cool outtakes and a photo gallery. Nothing really lengthy, but it could have been bare, right?

Overall:

I would say that Helloween was my first ever melodic speed metal band. I remember watching some of these videos on Headbanger's Ball back in the day. Most, however I hadn't seen due to the style of music the band plays and our musical climate in the States during the 90's to present. I have always liked promotional videos and I usually grab these packages when I find them. It's amazing just how long Andi Deris has been with the band now. I remember listening to the 2 'Keeper' albums with Kiske, but there really is a lion's share of videos from the Deris era of the band. Musically, the band has always been great.  The typically stay in the genre with only small amounts of experimentation. When they do something different, the results are typically good. The videos on this compilation represent most of the bands history, some era's with a bit more quantity than others. What more can be said? If you like this band, or even this style of music, this dvd is an absolute must! Recommended!

Questions or Comments? Email Dave by clicking
here
.
Reviewed by Dave Palmer

Specifications:

Aspect Ratio : Full Frame 1.33

Dolby Digital 2.0 Stereo

NTSC Region 0 : All Regions

Running Time : Approx. 1 Hr. 14 Minutes

Special Features:

Candid Backstage Interview Footage

Rare Photo Slide Show

Exclusive Web Access

So What's it About:

The bands live performance from Phoenix Arizona. I believe it to be from 2003. The performance consists of 13 tracks. After 20+ years, the band finally offer the fans up a live performance spanning the bands many albums.

Quality of Disc:

Overall, not too bad. Most dvd's are hitting the market with both Dolby 2.0 as well as Dolby Digital 5.1. Although there was a logo on the back of the packaging showing that it has 5.1 sound, I could never find anything other than the stereo 2.0 soundtrack. It is adequate however. The lighting is obviously a bit dark due to the theater experience and a bit of grain shows, but nothing too distracting. On a budget like what the band probably had, the outcome is decent.

Quality of Features:

The extras are okay. The backstage footage looks to be shot by a camcorder or something of the sort. It can be a bit humorous at times, but seems to get a tad bit long. The photo slide show is decent and kind of fun to watch. There is also a web access portion of the disc which is kind of standard fare these days.

Overall:

I have really liked this band from their debut all of the way through their career to this point. I have not however, been able to catch the band live. I guess this is the next best thing to it. I do like the track listing. I found some of the songs that I may not have listened to much before being much more enjoyable now. The band sound really good in their performance. As far as extras go, bare bones. I would love to have seen some promotional videos or something related to the bands lengthy career to this point. Maybe we might still get something like that in time, but for now this will suffice. If you are a fan of the band, I think you will more than likely find this to be essential. It's a bit of a look into the band that we may not have seen before!

Questions or Comments? Email Dave by clicking
here
.