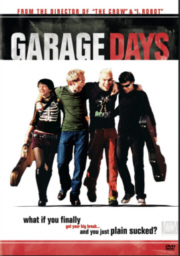 Garage Days

© 2002 Twentieth Century Fox Film Corporation

Specifications:

Anamorphic Widescreen 1.85:1 / Full Screen 1.33:1

Dolby Digital 5.1 Surround Sound (English)

Dolby Surround (Spanish)

Subtitles (English, Spanish & French)

Double Sided Single Layer

Region 1 NTSC

Rated R for Strong Sexual Content, Drug Use & Language

Running Time 105 Minutes

Special Features:

Commentary by Alex Proyas

Deleted Scenes

"Garage Days Backstage Pass"

Cast / Director Interviews

Outtakes / Goofs

Cast:

Directed by Alex Proyas (I, Robot, The Crow)

Kick Gurry as Freddy

Maya Stange as Kate

Pia Miranda as Tanya

Russell Dykstra as Bruno

Brett Stiller as Joe

Chris Sadrinna as Lucy

Andy Anderson as Kevin

Marton Csokas as Shad Kern

Story:

"What if you finally got your big break... and you just plain sucked? Well, according to my calculations there have been plenty that just plain sucked, still suck and always will, but hey, that isn't how this goes. This movie focuses on an up and coming rock band that will do whatever necessary to get that big break. After playing the bands first gig to an almost empty crowd, Freddy ends up with the wallet of big time record exec Shad Kern. After returning it Freddy gets the idea that this might work to his advantage. The fun begins. But are they actually ready for the biz or will they be a bust?

Quality of Disc:

No complaints here. The soundtrack is active and my personal preference is the Dolby Digital 5.1 soundtrack. Picture quality is equally good with my vote going to the Anamorphic widescreen version due to my widescreen TV. No flaws in the picture noticed such as artifacting and the such. Hate to get to redundant on this as every other website does this type of thing and I think we know the quality we will get in most cases from someone like Fox. Nicely done disc.

Quality of Features:

I enjoyed what this disc had to offer. The commentary is decent and can be a source of interesting facts for fans of the film. Casual viewers may not be as interested. It's a personal preference issue. I always enjoy deleted scenes. The scenes included in this portion are fairly short and don't add alot to the movie. The goofs section I found funny as it shows the comical side of the actor themselves. You can tell that the cast had a good time making this movie. As far as the 'Garage Days Backstage Pass', this section is similar to the small behind the scenes that you see quite frequently on most discs that come out. I personally liked the Cast / Director interviews better as a feature. You get each cast members take on the movie with some tidbits added in. Be sure to flip the disc as the features are split up between both sides and defintiely don't miss them as there are some comical moments here and there.

Overall:

I liked this movie. To an extent I can relate due to the fact I work with musicians from a journalist standpoint. Some are at the garage level and others a little more well know. Quite a bit of the stuff you see in this movie actually happens. For the average Joe they may not relate, but I think there is enough comedy going on to make it fun for a variety of audiences. The music was fun as well. With the band being from Australia, you got some of Australia's best bands such as AC/DC on the soundtrack. That familiarity always helps people identify with the movie and characters in particular. There were some small twists that catch you off guard that I'm not gonna discuss here due to spoilers, but this is the element Alex Proyas brings to the table. He has done some very cool and dark movies in his day. While this one is upbeat, it does have a slight dark feel in places. I liked the characters in the film for the most part. Probably my favorite was Lucy, the drummer. This guy was totally off the wall due to his love of drugs and the ultimate high. He'll definitely keep you cracking up. This movie may never go beyond the cult status it currently has, but I think in time it will build it's fanbase. Many critics haven't been as kind to this film, but I say to each their own. Decide for yourself. I personally found it enjoyable and will probably watch it again.




Paul Di'Anno-The Beast in the East

                         © 2003 Metal Mind Productions

Specifications:

Standard Version 1.33:1

Dolby Digital 5.1

Single Side Dual Layer

Region 0 - Region Code Free

Total Running Time - Approximately 150 Minutes

Special Features:

Artist Biography

Interview with Paul Di'Anno

Rare unreleased audio tracks

Bonus video material from Warsaw gig and Norwegian tour 2002

Discography

Photo gallery including tour pics and Paul's childhood pics

Desktop images

Band:

Paul Di'Anno - Vocals

Arve Isdal - Lead & Rhythm Guitar

Thomas Tofthagen - Lead & Rhythm Guitar

Espen Lien - Bass & Backing Vocals

Brynjulv Guddal - Drums

What's It All About?:

Contained on this disc is some great Di'Anno material. For those who may have lived in a cave, Paul was the former singer of Iron Maiden in the early years and was involved with the 'Iron Maiden', 'Killers' & 'Maiden Japan' records. I personally dove into Iron Maiden with Paul at the helm so in a way it is near and dear to me. The tour footage of this release was filmed in April of 2003 in Cracow. There are also some decent bootleg video portions filmed in Norway and Warsaw, Poland.

Quality of Disc:

I always prefer widescreen in anything, but at this point the standard was fine. As far as the bootleg, I don't think you'll see widescreen filming from the fans. The footage however in most cases is very good for bootleg material. There are a few scenes that were a bit shakey but overall not bad. The sound quality is decent as well. Nothing over the top, but nothing to bitch about either. Just a good solid mix that fills the room.

Quality of Features:

As mentioned before the boots are pretty good. These are consider part of the bonus material so we'll mention it again. The audio tracks sound good too although they were short and clipped it seemed. The songs faded out as to just give a teaser of sorts. The songs were light which was interesting with all of the headbanging going on through the rest of the disc. Good music I though though. Everything else including the photo galleries and discography were on par with what you would expect. Nothing really unusual there. What I enjoyed the most in this section was the interview with Paul. I actually learned some things through this that I would have never guessed. Total surprise to me. I won't divulge some of these details as you need to catch it for yourself. Very informative and a fun look back from Paul's take on things.

Overall:

I have been a Paul Di'Anno fan for a long time. I was happy to be able to catch him in this live disc as I have never personally seen him live. I think the band he toured with on this release was solid and did a good job of delivering the music the way the fans want it. If you are gonna play Maiden material, fans are gonna want it to sound like it did when it was released with maybe a bit of an edge to it. The Di'Anno solo material is great. I personally like most of what I have heard from Paul and it is even heavier than Maiden on alot of this material. The bootlegs were surprisingly good as mentioned before. The stuff sounded decent and the person with the camera maintained there pose for the most part, so you can leave the Dramamine in the cupboard. I liked the really close up stuff on the boots. Close up as in 'Hey, I'm right on the stage behind you guys' type stuff. I'm surprised with how small the stage was that someone didn't trip over the guy with the camera. Pretty funny. This disc offers up some of the best Paul Di'Anno related material to date. It looks good and sounds good as well. If you are a fan of Di'Anno, you definitely should have this already. Most metal fans will dig it!