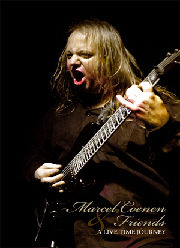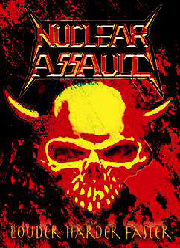 Nuclear Assault

'Louder, Harder, Faster'

© 2006 Screaming Ferret Wreckords

Marcel Coenen & Friends

'A Live Time Journey'

© 2006 Lion Music

Reviewed by Dave Palmer

Specifications:

Standard Format 1.33:1

Dolby Digital 5.1 ; Dolby Digital Stereo

Region Code 0

Dual Layer DVD-9

Running Time: Program: 38 minutes Features: 122 minutes

Special Features:

Vintage Live Footage

Slide Shows (Put to the original "Survive" Demos)

Music Videos

In The Studio Footage

Unreleased Songs

Interview with Danny Lilker and Glenn Evans

Quality of Disc:

As with the recent Seven Witches title, Screaming Ferret Wreckords offers up a DVD with a decent concert and quite a few extras. Quality wise this set isn't too bad. I'm a widescreen nut, so the fact it's full screen  causes my usual minor gripe, but on the flipside, this package is treated to a 5.1 surround track which is encouraging. If you know anything about Nuclear Assault, you know these guys are going to be very heavy. This is the other end of my spectrum. Anyway, not a bad package at all.

Quality of Features:

As usual, things are pretty good here. The band have put together quite a few extra things including interviews, promotional videos, and some rare vintage footage. Just let it be known that some of this vintage footage is quite old and therefore quite rough in places. I really enjoyed those days back when it was filmed though, so for me this was still cool. The videos are cool, especially 'Long Haired Asshole' which is quite humorous. The interview is in audio format which should be mentioned. Nonetheless it is still pretty interesting.

Overall

If you are a fan of Nuclear Assault, this has been a long time coming. The show is filmed at the Louder Harder Faster Festival back in June of 2005. It's nice to see this band has not lost anything even after all of these years. The extra stuff on the DVD is pretty cool as well. The interview is what you would expect. A look at the past as well as where the band may be headed. I think overall this package has been done pretty decent and if you are a fan of this band or even just Thrash metal, you are going to want this. Very cool intense stuff. White Nissan?

Questions or Comments? Email us by clicking
here
.
Reviewed by Dave Palmer

Specifications:

Standard Format 1.33:1

Dolby Digital Stereo

NTSC

Running Time: Program: 84 minutes Features: 54 minutes

Region Code 0

Special Features:

Bonus tracks: 'Still of the Night' & 'Rooster'

Behind the Scenes

Live in Thailand

Biography and DVD Story

Photo Gallery

So What's it About?

'A Live Time Journey' is a concert presentation that offers up some of the great music that Marcel Coenen has to offer. There are a plethora of guest musicians, most from the European scene where Coenen is from. It really is nice to receive some of this stuff due to the domestic market not taking much interest in it. We get the albums, but as far as visual aspect we don't get much from these European artists. The disc also has some decent extras that are worth checking out.

Quality of Disc:

There's quite a bit to like in this area. I like the menus that are on this disc. Just nice looking stuff. I also like how each track is titled on screen so if you aren't sure you will be before each song.  Audio and Video are adequate. Nothing overdone here, but nothing really lacking either. The concert presentation is quite enjoyable as well. I like the track selection as well as the guest musicians who join Marcel on stage for some of his music.

Quality of Features:

The extra stuff is also pretty good. We get the 2 bonus live tracks, both are covers. You get Alice in Chains' 'Rooster' & Whitesnake's 'Still of the Night'. they both are done very tastefully. I also enjoyed the 'Live in Thailand' segment. Where the concert is about the music in general and less about shredding and Coenen's abilities, the Thailand portion definitely shows off more of his shredding and can he ever. I was amazed at some of the stuff Coenen pulls off in a showcase environment. Naturally, for this, Coenen is solo with the rest of the music being offered as support through a recording. It still is really cool to watch. The rest of the feature type stuff is typical stuff you would expect. Enjoyable indeed.

Overall

One of the biggest reasons that I love Marcel Coenen's music is the fact that he can play with alot of finesse at one time, then turn around and throw one helluva heavy riff at you the next. He is a versatile guitarist with amazing technical ability. Even at that, he is disciplined and doesn't constantly get carried away. The DVD is something that will get repeat viewing's for me. There's nothing flashy in the stage show. this is all about the music. If you haven't heard anything yet from Coenen, you really ought to check him out. He's outstanding!

Questions or Comments? Email us by clicking
here
.