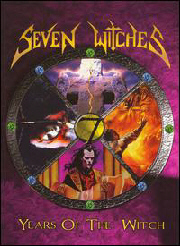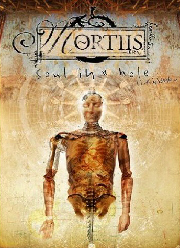 Seven Witches

       'Years of the Witch'

© 2006 Screaming Ferrot Wreckords

Reviewed by Dave Palmer

Specifications:

Standard Format 1.33:1

Dolby Digital Stereo

Dual Layer DVD-9

Region Code 0

Running Time: Program: 1 Hr. 15 mins.  Features: 1Hr. 16 mins.

Special Features:

Story of the Witch

Interview with Jack and Mark

The Man behind the Music

Journey through Camelot

Archived concert Footage

So What's it About?

This is more than just concert footage. This disc is about an equal split in terms of time with the live show and the features. The bands history is the focus of the set. There is some cool facts given in the features and it is also cool how Jack brings those in that he feels were important to the success of his band. It is informative and fun. The concert is set in a more intimate setting (small), but is effective in bringing a good strong presentation to the crowd. The band shows confidence. Nothing really to critique to any extent.

Quality of Disc:

With my love of Widescreen, I would have to take a few marks off due to the Standard format. I also love surround so the same applies. As mentioned with the features, they bring the balance back and make this a really cool disc to have.

Quality of Features:

As mentioned, this is an area that this disc really shines. The extras have substance, length and informative value. With half of the disc's length ending up here, I would have to give high marks to the job done on this.

Overall

A pretty decent DVD from a very good Metal band. Jack Frost has been associated with some very good music, and this band is no exception. The band has quite a few albums at this point and felt the time had come to do some video documentary and concert footage. With the exception of just a few minor things that are probably only important to a few i.e. widescreen and surround, this package should make the fans pretty happy. You can tell the band have a passion about the whole thing. I wasn't sure totally on the Region coding, but it's been common to have these types of releases code '0'. If you are in a market outside of the U.S. you may want to double check to be sure. In closing, if you like traditional Heavy Metal, you are definitely going to want to check Seven Witches out if you haven't already. If you have, you might already own this package. Entertaining stuff!

Questions or Comments? Send us an email by clicking
here
.
Mortiis

'Soul in a Hole'

© 2005 Earache Records

Reviewed by Dave Palmer

Specifications:

Standard Format 1.33:1

Dolby Stereo

Dual Layer DVD-9

Region Code 0

Running Time: Program: 1 Hr. 15 mins.  Features: 54 mins.

Special Features:

Interview Footage from London

Behind the Scenes of making 'The Grudge'

4 Music Videos:

Parasite God

Mental Maelstrom

The Grudge

Decadent and Desperate (Absentia)

So What's it About?

Norwegian artist Mortiis brings the viewer a look not only into his live performance, but a look at what makes him tick through the informative interview. I didn't know much about this guy prior to this DVD. I had an album or two, but really wasn't sure what the mask was about and the whole image thing. The interview kind of tells the viewer where Mortiis is coming from with segments based on various subjects. The music videos add even more depth to the situation with a look at another angle to the songs.

Quality of Disc:

Everything looks and sounds okay. As usual, I would love to see widescreen and surround, but I guess that is my usual minor gripe. It all comes across fine. I am into the dynamics and feel that this adds to it. I think that the package is fairly well rounded with decent attention being paid to things that make this entertaining.

Quality of Features:

The stuff added to this presentation is pretty decent. I am always an advocate of promotional videos. This package has 4. I also found the interview necessary and interesting. I say necessary because it helps fans understand where Mortiis comes from. Anytime you have an artist that adds an interesting twist to his image, it's always nice to find out why.

Overall

I had never paid much attention to Mortiis. I have been a fan of Industrial based metal for quite a long time now. For some reason Mortiis slipped under my radar. I had some stuff by Mortiis from the past that didn't spark my interest, but I like where he is at right now. It's Industrial with a slight twist. The visual aspect is cool as well. With a band that delivers their music in the way that Mortiis does, it's kind of cool to see it translate through the live show. As mentioned, I was happy to see the promotional videos as well. Mortiis isn't one of those artists that has seen alot of airtime on Mtv. It's nice to not be held back from seeing this stuff by adding it to the DVD. I have to admit at this point that I enjoy Mortiis' music. This DVD is definitely part of the reason!

Questions or Comments? Email us by clicking
here
.