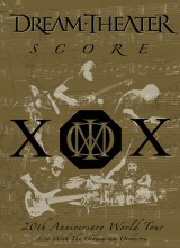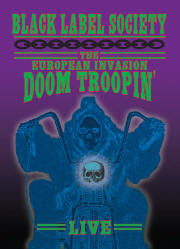 Dream Theater

'Score - 20th Anniversary World Tour'

             © 2006 Rhino Entertainment

Reviewed by Dave Palmer

Specifications:

16:9 Widescreen

Dolby Digital 5.1 ; PCM Stereo

NTSC Region 1

2 Disc Set

Running Time: Approx. 3 Hours

Special Features:

20 Year Anniversary Documentary

Bonus Live Footage

So What's it About?

This feature is a concert presentation of the bands 20th anniversary world tour filmed at Radio City Music Hall in New York City. Part of the way through the show, the band is backed up by the Octavarium Orchestra. There is also some bonus live footage as well that goes back from a couple of years to over 10 years ago. The concert travels through the bands catalog of music from the early Majesty days through the more recent stuff from 'Octavarium'.

Quality of Disc:

This band has always made everything about quality. The music is amazing, the disc is as well. You get 2 soundtracks, the one I prefer is obviously the surround track. Video quality is very good as well. This set as mentioned is a 2 disc set with the second of the two containing the bonus material. All in all, this set is very nice quality-wise.

Quality of Features:

The bonus features on this disc are pretty decent. What I really enjoyed was the documentary. I really learned alot from this and was quite surprised at a few of the tidbits the band let out to the fans. The live footage is also nice. I always loved the tune 'Another Day' and am always in the mood to watch live footage of that one. The other two tracks, 'The Great Debate' and 'Honor They Father' are also nice and showcase the band in more recent years. The band could have just chose to go 1 disc with this set, but the additional disc really rounds it out nicely.

Overall:

I got to tell you, after watching this set, I ended up digging a high percentage of Dream Theater albums back out of the vault. With the constant flow of music that keeps coming, sometimes stuff like Dream Theater, which I have always loved gets lost in the shuffle. A nice reminder such as this always works for me. I like the usage of the orchestra as well. I like how the band are what's important and the orchestra are used to enhance the performance. In some of these orchestra/band combos I have seen, I think the orchestra tends to be in the forefront a bit too much. The only area I felt that they led was with 'Six Degrees' which was fine because it was the lead off track with the orchestra at the point they joined the concert. Very well done on this. Track selection is done as well as can be expected for a band who has a deep back catalog as Dream Theater definitely has. To make a run through your career, you definitely have to trim, but it seems to work out well. With the proficiency of this band and 20 years officially behind them, here's to hoping there will be 20 more! Great DVD!

Questions or Comments? Email Dave by clicking
here
.
              Black Label Society

'The European Invasion - Doom Troopin'

                  © 2006 Sanctuary Records

Reviewed by Dave Palmer

Specifications:

16:9 Widescreen

DTS Surround Sound ; Dolby Digital 5.1, Dolby Digital Stereo

NTSC Region Codes 1& 4

2 Disc Set

Approx. Running Time 148 Min. (Disc 1)  74 Min. (Disc 2)

Special Features:

Backstage Pass (50 Minute Featurette)

Music Videos - 'Suicide Messiah' making of 'Suicide Messiah', 'In This River', 'Fire it Up'

So What's it About?

This set contains footage from a couple of European shows on the bands recent tour. The longest of the two shows was filmed in Paris, France and the other in London, England. There is also some cool bonus stuff such as the featurette that gives a bit more info which was cool and the addition of music videos always is a bonus in my opinion. Zakk Wylde definitely documents this band well and this package is another chapter in that.

Quality of Disc:

This is another DVD set not to disappoint. I like the fact that both the concert footage sections that span across 2 discs are both in 16:9 widescreen. The addition of the soundtracks is a plus too. You get both DTS and Dolby Digital which gives you some decent options. Overall, everything looks good and sounds good. I also found it interesting that the box states Region coding for regions 1 and 4. Usually when they are multiple, they go region free with 0. Just found that a bit interesting and worth mentioning.

Quality of Features:

As mentioned, I will always go for featurette's as I like the inclusion of Backstage Pass documentary and the making of segment for 'Suicide Messiah' as well. The latter has some humorous stuff that will crack you up. I always like to see music videos added to any concert DVD set. Having 3 of them here is cool. It allows the viewer to keep up with the bands promotional video catalog, and Black Label Society has done a good job so far in their career with this.

Overall:

This is a pretty fun DVD to view. I think Zakk Wylde has one of the meanest guitar sounds in the business. Watching a Black Label Society offers up a serious amount of shredding. It isn't all about soloing though. Some of the killer parts were with just the great sounding rhythms. These concerts are all about metal. Huge riffs and equally big low end and vocals. It's all delivered in these performances. I found myself cracking up at some of the things Zakk was doing, like the guitar throw he does. It goes out in the audience and they send it right back. Found it funny that no one decided to claim ownership. Lots of booze at these shows too. Everyone knows how Zakk likes the booze. I found it interesting as well to see James Lomenzo. He looks way different then his earlier White Lion days. I think that if you are a fan of this band, you'll probably already have this set. If you are a casual fan, it's definitely worth looking at. Black Label Society is one of the few domestic acts that plays it heavy with alot of traditional influence. Definitely worth more then one viewing!

Questions or Comments? Email Dave by clicking
here