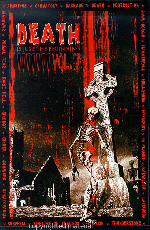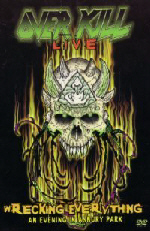 Overkill-Wrecking Everything-Live

        © 2002 Eagle Rock Entertainment

Specifications:

NTSC  4:3 Format

Dolby Digital 5.1, DTS Surround, Stereo

2 Discs

Playstation 2 Compatible

Running Time    Disc 1: 120 Mins.    Disc 2: 99 Mins.

Special Features:

Batmen-The Return Feature, Photo Gallery,

Batmen behind the scenes, Audio Selections

Video Quality:

A-

(I viewed on 55" Widescreen TV and noticed a bit of block noise. Would have liked this one shot in Anamorphic Widescreen. The block noise will not however be visible on most smaller displays, thus the A- rating. It really is minor.

Audio Quality:

A+

This is where this disc kicks ass! The DTS scheme sounds wonderful. Dolby Digital 5.1 also sounds great, but for those without decoders, the Stereo will keep you happy! Happy to see the DTS bitstream added into this release.

Extras Rating:

A

No complaints here. At least there is some extra material and it is informative. Not a lot of photos, but I think they kept it to good taste. Who wants to browse a hundred photos or more anyway on a dvd?? The feature was fun with some inside into the history of the band. Behind the scenes was also interesting.

Summary:

Disc Overall Rating - A

Those who know me know my love for this band. I saw these guys on the 'Taking Over' tour, but haven't had the chance to see them since. This DVD was highly anticipated for me and most Overkill fans. As far as the bands music, they are relentless! They could really teach some of the other Thrash bands a thing or two about sticking to your guns. The banmd puts on one helluva intense experience and this disc really offers a good look at it. I can only hope they hang around for a long time to come. As far as the DVD itself, the really only complaint I have is 4:3 aspect ratio. As we go into the future of television, widescreen will be the future. With my widescreen tv it puts the 4:3 into a stretch which can be changed back, but who wants those annoying bars on the side?? Anyway, hopefully studios will pick up the pace and get the fans these things in widescreen for longevity purposes. Also worth mentioning is that the feature is on disc one and the features on disc two. Other than that.... this ones a must have!

Track listing includes:

Necroshine

Thunderhead

Evil never dies

Deny the cross

Wrecking crew

Powersurge

Gasoline dream

I hate

Coma

Shred

Hello from the gutter

Bleed me

Long time dyin'

It lives

Battle

Spiritual Void

The years of decay

In union we stand

Overkill

Horrorscope

Rotten to the core

Elimination

Fuck you/War pigs

Death is just the beginning Vol. 7

                © 2002 Nuclear Blast

Specifications:

NTSC 4:3 Format

PCM Stereo

2 Discs

Region Free

Running Time   Disc 1: 75 Mins.   Disc 2: 55 Mins.

Special Features:

Individual Band Photo Gallery

Video Quality:

A-

No real complaints here. Can't complain too much about the 4:3 due to these being Mtv style videos. Didn't really see any noise. Overall a decent video presentation.

Audio Quality:

B-

Nothing much to say here. Standard PCM stereo soundtrack. With the nature of these videos, I don't think I would have wanted discrete 5.1 channel audio. Music does pack a punch and sounds sufficient. Big complaint with the 'In Flames-Cloud Connected' video though. The audio is out of sync with video and is extremely distracting. This is where this set earns the B-. No excuse for missing this.

Extras Rating:

N/A

I don't really classify a band photo for each band a special feature. It's a nice touch to see press photos but I didn't rate this area with a grade.

Summary

Disc Overall Rating - B+

If your not familiar with Nuclear Blast and their video compilations, they are excellent. This disc is very good, but I am still bummed with that audio sync. problem with 'Cloud Connected' as that is my favorite song on this particular compilation. It IS very distracting due to the way it was filmed. I think this was an honest slip however. Just wish it wasn't there. Disc one contains Mtv style videos with this lineup:

In Flames-Cloud Connected
Dimmu Borgir-Puritania

Soilwork-As we speak

Darkane-Innocence Gone

Hammerfall-Hearts on fire

Manowar-Warriors of the world united

Primal Fear-Armageddon

Thunderstone-Virus

Sinergy-Suicide by my side

Theatre of Tragedy-Let you down

Amorphis-Alone

Helloween-If I could fly

Straovarius-A million light years away

Hammerfall-Always will be

Therion-Summernight City

Susperia-The bitter man

Crematory-For love

In Flames-Only for the weak

Disc two contains live videos including:

Hypocrisy-Fire in the sky

Dimmu Borgir-The insight and the catharsis

Destruction-The butcher strikes back

Primal Fear-Running in the dust

Hammerfall-A legend reborn

Sinner-Used to the truth

Crematory-I never die

Lacrimosa-Ich bin der brennende komet

Raise Hell-Babes

Kataklysm-The awakener

Death-Scavenger of human sorrow

There really is a lot of bang for the buck here. These series of DVD's have introduced me to some new bands and really are a clever move on Nuclear Blast's part. You buy the DVD for certain bands and end up liking more. I for one have bought more albums as a result. Overall this package is very enjoyable and has a decent track lineup!